Best in class? Samsung Galaxy A7 (2017) scores amazing on our battery life test
16

We don't know what Samsung is doing with the battery life of its midrange Galaxy A-series trio this year, but those things last. The
Galaxy A5 (2017)
scored 11 hours of screen-on time on our demanding benchmark with a 3000 mAh battery, and we just had the
A7 (2017)
finish PhoneArena's battery life test routine. At 3600 mAh battery capacity, it has a 20% larger juicer than the A5 on the same specs (only a larger screen diagonal), so, naturally, it scored about 20% longer in battery endurance, too, or exactly as much as Samsung promises under the most demanding of circumstances, as you can see in the official battery specs list below.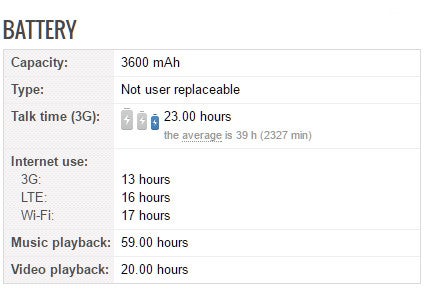 Yep, the Galaxy A7 (2017) just clocked nearly 13 hours of screen-on time while looping our battery testing script (at uniform 200 nits of brightness for all phones), and this shoots it straight to the top of its upper midrange category. Barring a few nondescript phones with 4000-5000 mAh juicers, the only direct competitor of the A7 that scored higher is the
Moto Z Play Droid
, which, however, doesn't have a waterproof chassis, charges much slower, and fits a 5.5" screen in a chassis almost as large as the 5.7" Galaxy A7 (2017).
A weekend away from the charger? Get the new Galaxy A-series."
The marriage of a largish battery and a 1080p or HD display seem to be the winning combinations for battery endurance these days, as the Quad HD flagships are all clustered in the 6-9 hours range of screen-on time in our proprietary script. Samsung, however, being both the producer and the assembler of the screens, chipsets and memory of the new A-series, has managed to optimize them better in terms of power consumption than other brands that don't make everything in-house. Take the
Honor 8
, for instance - while it still scores nine admirable hours of screen-on time in our test, and has a homebrew Kirin 950 chipset built on a modern 16nm mode, plus a 5.2" 1080p display, just like the A5 (2017), it lasts 20% less than Samsung's midranger with the same size battery pack.
Thus, if you are looking for a phone that can last you a weekend away from the charger, or a day of heavy gaming, pick your favorite size among the 5.7" A7, 5.2" A5 or 4.7"
A3
, and you will be good to go. On top of that, those charge really fast, too, for about an hour and a half. Granted, at a bit over the A7 money you can now get a
Galaxy S7
with Dual Pixel camera tech, but then your screen will be small, and battery life would be nothing short of average instead of excellent bordering on record. Decisions, decisions.