Best Samsung Galaxy S6 cases you can buy right now
16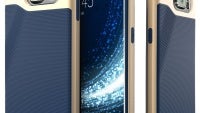 Ready to plunk down the cash for a Samsung Galaxy S6 pre-order? You might as well think ahead and buy a case already. As you can see, case manufacturers have been busy getting a selection of accessories out in time - in fact, they are quite a bit early!
So if you are going to be an early Galaxy S6 adopter, suit yourself with one of these fine cases. They are all on Amazon, so you don't have to mess around with imports from other countries.
Check them out, hopefully you'll find a perfect fit for your new Galaxy S6!