Best Buy to offer Pebble Steel at a discounted $229, starting June 15th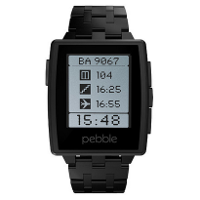 Looking for the classier model of the Pebble smartwatch? The Pebble Steel is now available from Best Buy, priced at $229. This saves you all that time waiting for the watch to arrive if you purchase it from the Pebble website. This is actually the first time that Pebble Steel will be offered in a retail store. Previously, the plastic variant of the wearable was offered on Best Buy's shelves, and Pebble Steel was available online only.
Pebble Steel will be offered at Best Buy in Brushed Stainless or Black Matte, and the aforementioned price includes a $20 discount. The watch goes on sale at the tech retailer starting on June 15th. Both models come with a leather strap, although later this year a matching metal band will be offered as a separate accessory.
It has been quite a ride for the gang at Pebble, starting with
the amazing amount of crowd-sourced funding it received at Kickstarter
. The watch
had a leading 35% share of the smartwatch market
in the first quarter of this year.
source:
Pebble
via
MobileBurn