Best Buy now offers the HTC DROID Incredible in white
5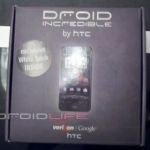 The HTC DROID Incredible is by no means old, but it's starting to feel that way. Especially now that we've got our eyes set on the upcoming
Nexus S
and
HTC Merge
, the Incredible is having a hard time finding a home.
Best Buy is now offering the DROID Incredible with the special edition white back. HTC has made the white and red backs available for some time, but this is the first time it will come stock on the device. We should point out that it's not really a white device. It's merely a white back-plate. But we also admit that it will lure a wider audience, particularly would-be purchasers of the elusive
white iPhone 4
.
Best Buy is sweetening the deal by offering the Incredible for free, while
Verizon
still charges $150 for the device. If you really want a good deal, retailers like Dell sometimes offer you prepaid debit cards as
incentives
to clear their inventory. Although that particular offer has since lapsed, there will surely be similar ones over the holidays.
source:
Droid Life