Best Buy now offering $50 deposit for the Motorola BACKFLIP pre-order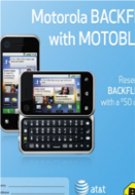 Since the first announcements about the Motorola BACKFLIP were made, there are probably many AT&T customers waiting off from buying or upgrading their current phone. When it's finally made available starting on March 7, there's going to be no telling what kind of demand it'll garner as it finally makes itself ready for sale. If you really are intent of snatching up the Android powered handset, you may want to check out your local Best Buy Mobile location – they're at it again with their usual pre-order offering. Dishing out $50 to them, which in turns gets placed onto a gift card, will guarantee yourself a unit on day one of launch. If having to wait on long lines isn't your kind of thing, we'd suggesting following this alternative route to make the whole buying process less strenuous on yourself – we know you'll be saving up more energy on getting acquainted with your new smartphone anyways.
Thanks to our anonymous tipster!!
Motorola BACKFLIP Specifications
|
Hands-on