Best Buy closing 50 big box stores, adding 100 Best Buy Mobile locations
38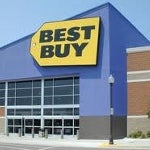 Best Buy is making some changes according to the
Wall Street Journal
. The big box retailer plans on
closing 50 stores out of the 1,100 it currently runs
. It will also test a new format in San Antonio and Minneapolis and lay off 400 employees. The whole package will cut $800 million in costs. Earlier reports said that the popularity of the new Apple iPad had contributed to the problem because of its low margins.
Additionally, Best Buy is losing business to those who come into its stores to browse for merchandise, but then
make the actual purchase through an online retailer
like Amazon. These online stores do not have to collect sales tax or carry inventory at a number of retail locations like Best Buy does. And many popular Apple products can be purchased at the manufacturer's own stores.
"I am not satisfied with the pace or degree of change we have made up to this point, said with analysts. We are evolving our retail store strategy. We are increasing our points of presence while decreasing our overall square footage."-Chief Executive
Brian Dunn
Best Buy is running tests for what it calls "connected stores" in San Antonio and Minneapolis. These stores will
concentrate on tech support and wireless connections
, offer large new hubs for shoppers, redesigned checkout lanes, and a quicker way to pick up products purchased earlier. The retailer will boost spending on employee training by 40% and offer incentive for salespeople on the floor. When the latter was tried in the mobile phones department, sales took off. Best Buy wants to reduce its footprint by 10% in the coming years and bolster its online offering. On the other hand, with smartphones remaining a hot growth industry, the company will add 100 new Best Buy Mobile stores. These stores concentrate on mobile phones and tablets.
2.4
% year-over-year. Best Buy said that it believes it gained market share during this three month period. For the entire year, Best Buy's revenue rose 2% to $50.7 million. Mobile device sales in the U.S. added 3.4% to $16.63 billion. For the current year, Best Buy expects revenue to be flat.
source:
WallStreetJournal