Best Buy brings back the $200 iPad trade-in deal
12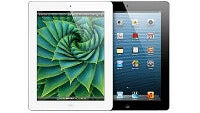 You may have missed it because it was such a quick deal the
first time around
, but Best Buy had an offer which would give users at least $200 trade-in value for an iPad 2 or 3 when they purchased a Retina iPad. Well, if you missed it the first time, Best Buy has brought back the deal which will run through August 3rd.
The deal will work basically the same way as it did originally. If you have an iPad 2 or 3 that is in good working order, Best Buy will give you at least $200 towards a new iPad. The only note is that this time around Best Buy is blatantly telling users with iPads that have either cracked displays or water damage that they shouldn't bother trying. We're not sure why those people wouldn't have been turned away by the phrase "in good working order" anyway.
If you want to get in on the deal, just find a local Best Buy that is participating in the offer and head in before August 3rd.