Best Apple iPad Air 4 cases and covers
1
We may earn a commission if you make a purchase from the links on this page.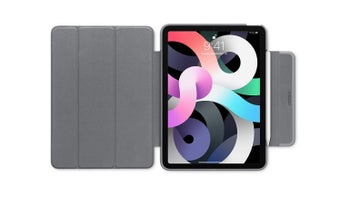 The 2020
iPad Air 4
has a lot going for it – from it's gorgeous, updated premium design akin to the
iPad Pro
, to its fun and vibrant
new color options
. But the new 4th generation iPad Air hasn't just been visually upgraded. It is packing the A14 Bionic chip, which made it one of the most powerful iPads at the time of its release.
If you've decided to pick an iPad Air 4 for yourself (Good choice!) or your already own one, you may now want to add protection to your tablet, or further enhance its usability with a keyboard. Are you looking for the best iPad Air 4 cases and covers from
Apple
and third parties? You've come to the right place! Below we'll list those for you, hopefully helping you choose the perfect iPad Air 4 case or cover to fit your specific needs!
You may also find interesting:
Apple Smart Keyboard Folio for iPad Air (4th generation)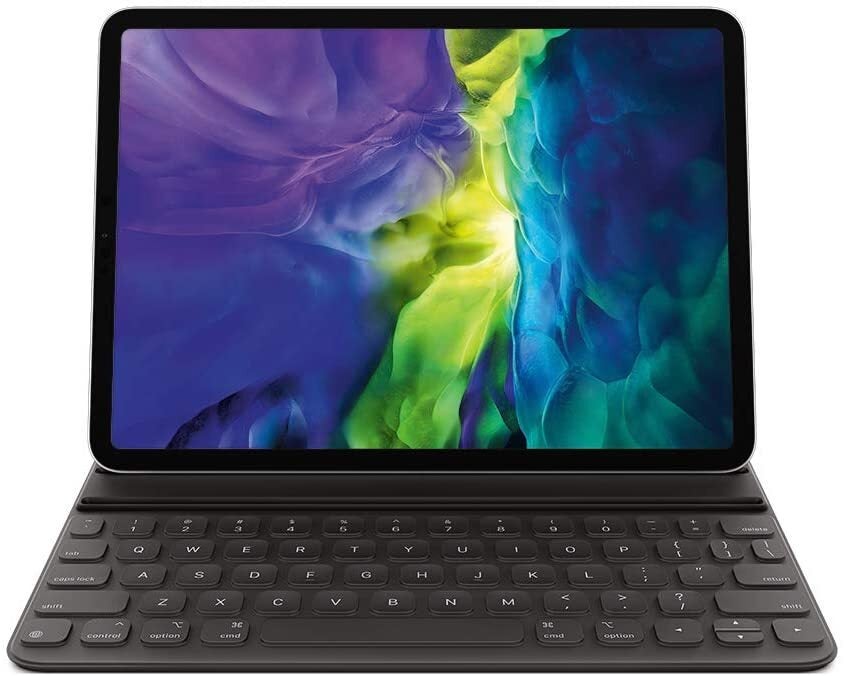 If you don't want to impact your iPad Air's portability but also need a keyboard for occasional use – there's no thinner and lighter option than Apple's own Smart Folio Keyboard for iPad. It doesn't have much key travel, nor backlighting or a trackpad, but the Smart Folio Keyboard makes up for it by offering two viewing angles and doubling as a smart cover. No separate charging for this keyboard is needed, plus the keyboard can flip around the iPad like a regular folio cover, in which case the keys are disabled, which is all very convenient.
A big downside is the rubbery outside material of this folio keyboard, which gets dirty as soon as it's placed on a table. A slight bump into a wall tore mine a bit, so this is far from a durable case, but a case for convenience and productivity.
Apple Smart Folio for iPad Air (4th generation)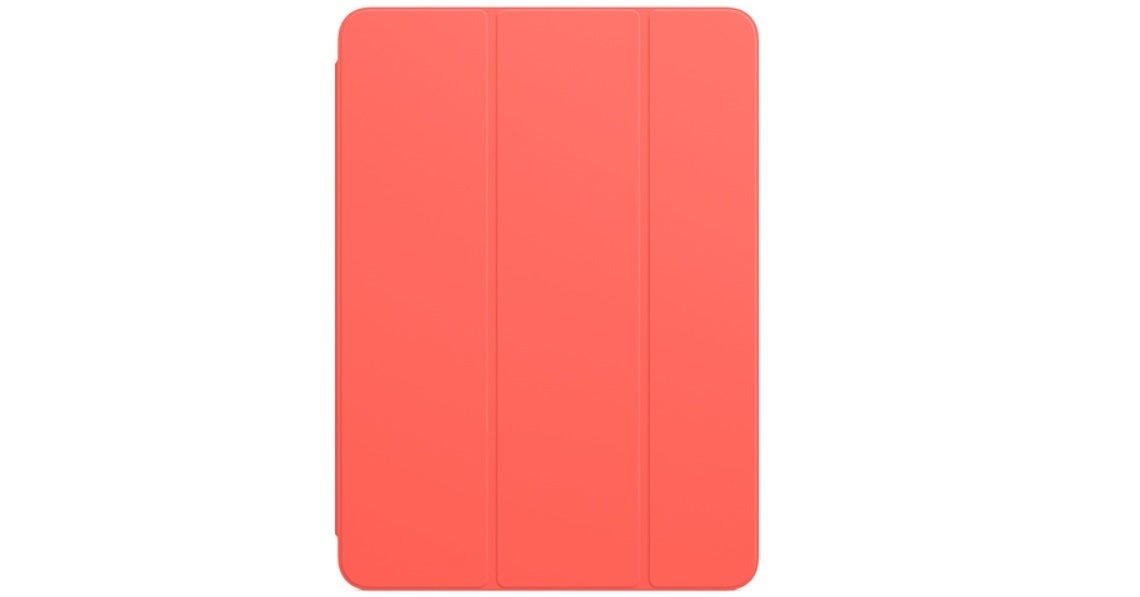 By far the most popular iPad cover, Apple's Smart Folio may be a bit overpriced, but it's simple, and it does what most iPad users are after, when looking for a case or cover. It can prop up the iPad for watching content or typing, so you don't have to hold it, and it protects the screen from scratches. The Smart Folio also automatically puts your iPad Air 4 to sleep and wakes it when you close and open it, as an additional convenience.
This is also the cover to get if you'd like to add some additional visual flare to your iPad Air 4, as it is available in three fun color options in addition to black and white – those being Deep Navy, Cyprus Green and Pink Citrus. Note that this cover will not protect your iPad Air 4's back from scratches, though. It attaches magnetically to the iPad's side and covers only the display. This, however, arguably also makes it extremely convenient, plus it doesn't add any noticeable thickness or weight to the iPad.
Logitech Folio Touch Keyboard Case with Trackpad for iPad Air (4th generation)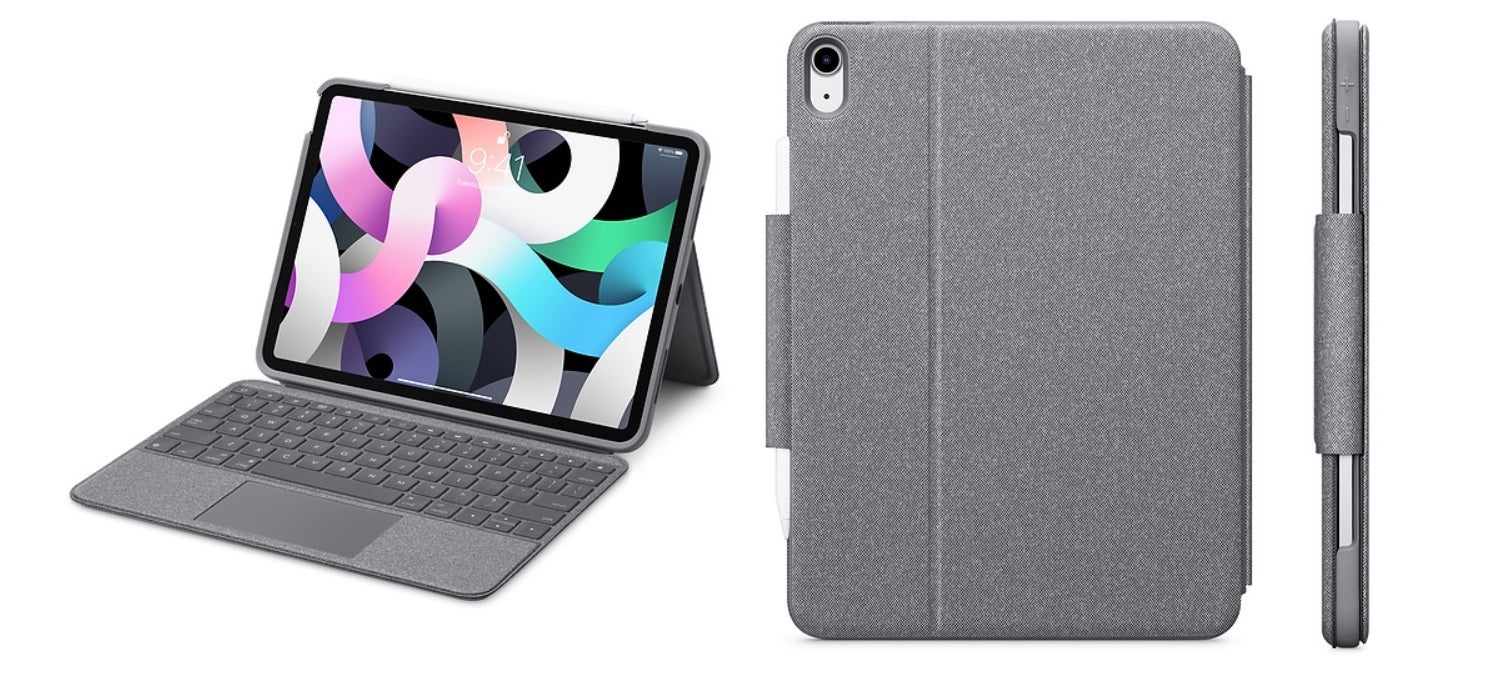 Are you a student who needs a keyboard? Or are you an iPad power user who wants a full laptop computer-like experience? Logitech has been making some high quality, great value all-in-one keyboard cases for various iPad models, and this is the company's newest one for the iPad Air 4. It's about half the price of Apple's own Magic Keyboard (which we'll also check out), and it gives you a full-size backlit keyboard, along with a decent-sized trackpad.
The Logitech Folio Touch also notably has a row of function keys (for brightness, volume, etc.) that even Apple's own Magic Keyboard doesn't have. And, as this is a keyboard case, the Logitech Folio Touch also protects your iPad Air 4 from all sides when closed, and of course can double as a stand. It connects to your iPad via the Smart Connector on its back, so no charging is ever needed.
A downside to this keyboard case for some may be its weight and thickness. It adds 22.8 ounces (646 grams) of extra weight to your iPad Air 4, and some significant bulk. Still, for all that it brings to your iPad, and considering its price, this is a great case to pick if you're after good protection along with a laptop experience.
OtterBox Symmetry Series 360 Folio Case for iPad Air (4th generation)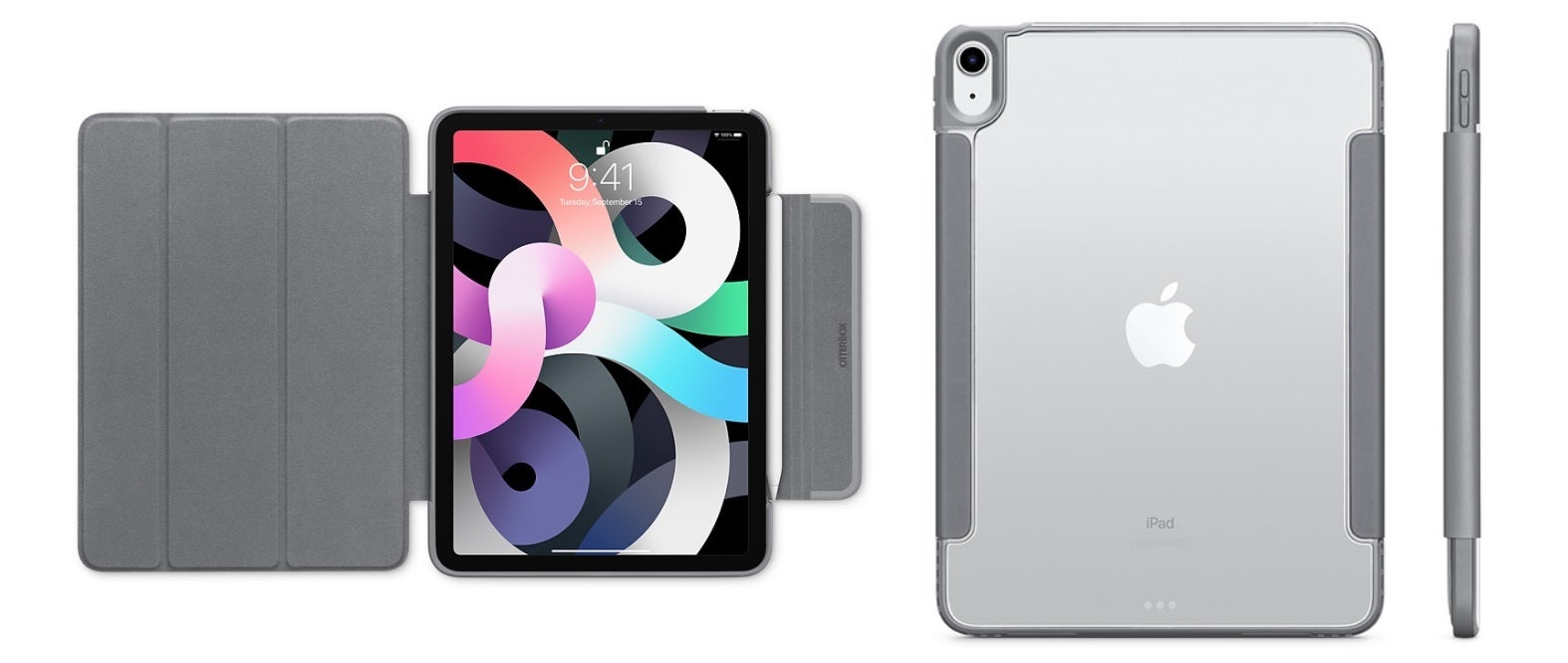 If you're looking for a simple protective case for your iPad Air 4, that can also be used as a stand – this is a quality one to choose. It does cover your iPad from all sides, protecting it from scratches and drops, and has a transparent back, so you can still showcase your chosen iPad Air 4 color finish.
If you're rocking an Apple Pencil, it will also be protected, as this case's flap will cover it entirely. Much like Apple's Smart Folio, it can prop up the iPad in both typing and viewing angles.
Apple Magic Keyboard for iPad Air (4th generation)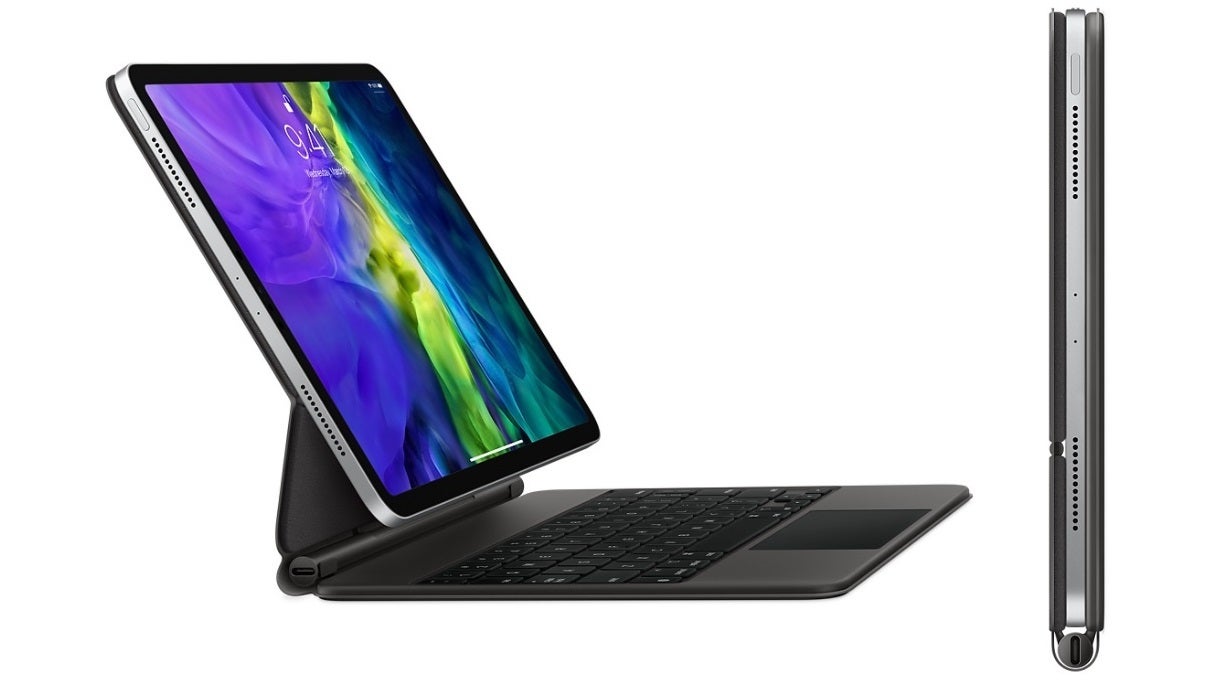 The most unique and flashy keyboard case available for the iPad Pro is now also compatible with the new iPad Air 4. While far from cheap, it is the most premium-looking keyboard to get for your already premium-looking iPad Air 4, creating a package that is certain to draw attention, plus enhance your iPad productivity.
Easily attach your iPad Air 4 onto this keyboard case via magnets, and both will connect through the iPad's Smart Connector. This is a backlit keyboard just like the Logitech Folio Touch, and it also never requires charging. In contrast to the Logitech Folio Touch, this one is much thinner (but still heavy – 1.81 pounds), has larger keys and even a USB‑C port for passthrough charging.
It also sports a touchpad, delivering the laptop-like user experience professionals and students may be after. No row of function keys, though, which the Logitech Folio Touch does have. Aside from being a great keyboard and allowing your iPad Air 4 to be adjusted for many viewing angles, this keyboard case offers basic front and back protection for your iPad, when folded.
Sadly it uses the same (or a very similar) rubbery outer material as seen on the Apple Smart Keyboard Folio, so its long-term durability is questionable.
UAG (Urban Armor Gear) Metropolis for iPad Air (4th generation)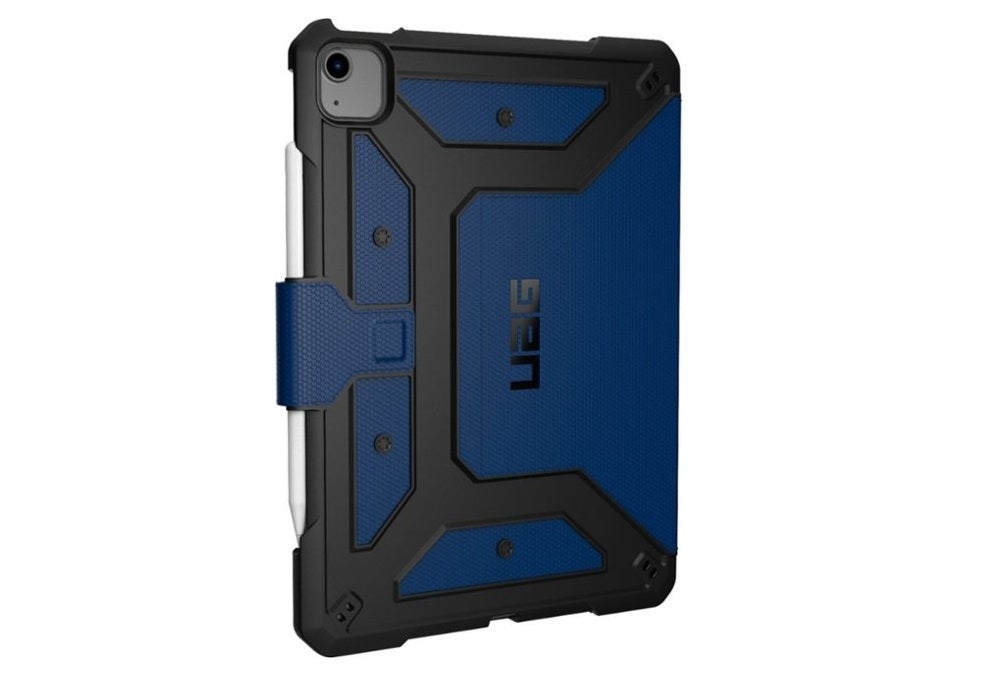 If rugged cases are more your style, UAG is among the best brands to turn to. The UAG Metropolis for iPad Air 4 not only looks cool and protects your tablet from daily bumps and scratches, but is super light too. It has an Apple Pencil holder, iPad sleep/wake functionality for when you close or open it, and sports an adjustable stand for your iPad with several viewing angles.
ZAGG Pro Keys Wireless Keyboard and Detachable Case for Apple iPad Air (4th generation)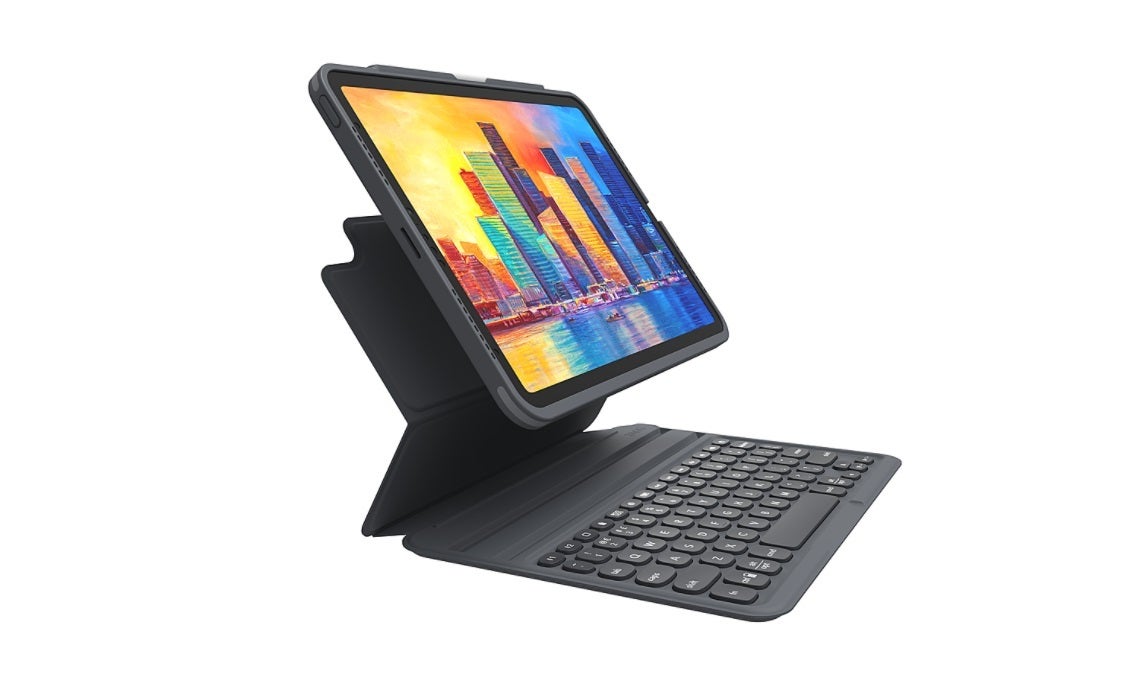 As a cheaper alternative to Apple's own Magic Keyboard for iPad, the ZAGG Pro Keys is solid. ZAGG has been doing keyboard cases for iPads for many years, so it's no surprise that this one is well-built and lightweight, sporting a backlit, laptop-style keyboard.
No trackpad, unfortunately, but its case part is detachable and can be used on its own, plus it features an Apple Pencil holder. The keyboard does require separate charging, but according to ZAGG it can last up to a year of daily hour-long typing sessions.