Want a tough USB Type-C cable for your Galaxy S8 or Google Pixel? The Belkin DuraTek USB-C might be what you need
4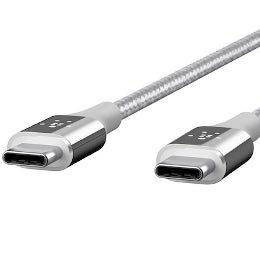 Usually, spending more than $10 or $15 on a USB cable for your smartphone may not be justified. But what if you want a really tough cable that can't be damaged easily, and not even your dog can chew? Well, then you might want to hear about the Belkin DuraTek USB-C, a brand new USB
Type-C cable
that's compatible with many high-end smartphones, including the upcoming Samsung
Galaxy S8
and
Galaxy S8+
.
Built with Kevlar fibers, abrasion-resistant double-braided nylon, and thermoplastic elastomer (TPE), the Belkin DuraTek USB-C is very resistant to splitting and breakage, being able to "withstand 5000+ cycles where the cable is bent to 180-degrees." The cable is 4 feet (1.2 meters) long, and supports fast charging (3A) and data transfers up to 480 Mbps. Moreover, you're getting a 5-year warranty.
You can use the Belkin DuraTek USB-C to charge your smartphone, or to connect it to other USB Type-C devices - like the Google Chromebook
Pixel
, or Apple's latest MacBook models. Here's a list of smartphones compatible with the new cable, as provided by Belkin (though other USB Type-C handsets should be compatible as well):
Google Nexus 5X
Google Nexus 6P
Google Pixel
Google Pixel XL
Huawei Mate 9
Huawei nova
Huawei P9
Huawei P10/P10 Plus
HTC 10
LG G5
LG G6
Microsoft Lumia 950
Microsoft Lumia 950 XL
Nokia N1 Tablet
Samsung Galaxy S8
Samsung Galaxy S8+
Samsung Galaxy Tab S3
The Belkin DuraTek USB-C cable costs $29.99, and is available in four color versions: black, grey, rose gold, and gold. If you think you need this accessory in your life, you can order one right now from Belkin's website - see the source link below. The cable can be shipped in the US, Canada, and Brazil, as well as to various European and Asian markets.
source:
Belkin