Beddi is that modernized alarm clock you need by your bedside
4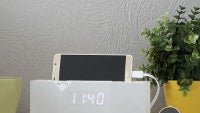 A decade ago, before the popularization of the modern smartphone, most us were woken up in the morning by that familiar sound coming from alarm clocks. You know, that buzzing sound that would instantly wake you up in the heartbeat – only for you to spring up and press on that snooze button, to get just a smidgen more sleep. Well, that all changed with the smartphone, seeing that most of us nowadays rely on them to act as our alarm clocks.
The team over at Witti, the same folks responsible for the
dazzling LED notification accessory Dotti
, is convincing us that its latest product is that new-age alarm clock with the goods to win back that previous real estate near our bedside. Enter Beddi, its bedside concierge alarm clock that goes beyond what you'd imagine an alarm clock would do. Not only does it display the time, like any other alarm clock should do, but it even features Spotify integration, real-time traffic alerts, one-touch UBER ride requests, USB charging, mood lighting, and much more.
We got the chance to get a sneak peek at Beddi a few week ago, and we must certainly say that it conjures up a pretty convincing package. First and foremost, its design follows your traditional speaker dock – whereby there's a nook etched out on the top to accommodate a smartphone, while the majority of its façade is dominated by a speaker grill. And trust us, not only is it effective in getting you up in the morning, but it churns out some pretty smooth tunes via Bluetooth connectivity.
We're also pretty impressed by some of its added conveniences, such as its mood lighting, white noise generator feature to help people ease into sleep, and real-time traffic updates. With the latter, it intelligently uses the accompanying Beddi app (Android & iOS) to sniff out your local morning commute – giving you the most optimal route based on the current traffic conditions. And that, folks, is all done without having you to physically look it up yourself on your smartphone.
Do you prefer an Uber ride to your morning commute? Interestingly, there's a feature for that too, as you can set any of its programmable buttons to catch an Uber ride request from a pre-set pickup location. Going beyond that, Beddi is a smarter alarm clock because it's programmable to work with other home-connected devices as well – like Nest, Philips Hue, and WeMo Switch.
It's a Bluetooth speaker, smart alarm clock, and charging dock as well! For those piqued by what Beddi has to offer, just know that it's going to be attached with an MSRP of $99.99. Needless to say, that's quite a good package considering what accompanies it, but even better, it's currently available as a Kickstarter pre-order for $75.
source:
Kickstarter