Dotti Review
3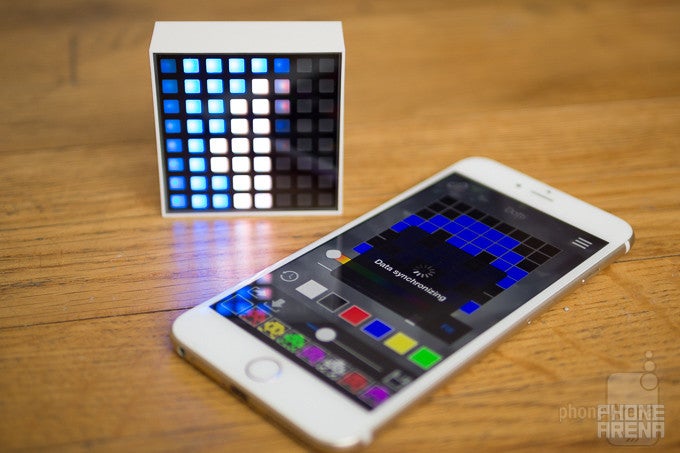 Introduction
Notifications have become an integral part with our smartphones, providing us with a discrete way of getting quick looks at certain things without being too overly distracting. For the most part, the way we experience notifications hasn't changed all that much since the first smartphones, but Dotti is aiming to supplement the experience in ways that are exciting, fun, and attentive. What is Dotti you say? Well, it's this neat-o and simple app-controlled pixel light that offers an intriguing alternative to the traditional way notifications are delivered to us.
Packaging contains:
Dotti
microUSB cable
Quick start guide
Design
In all fairness, there's nothing ornate about Dotti's design – it's just a simple square-shaped plastic thing; nothing more. From the front, it looks like a cube, but the rear flaunts a hard angled design that gives Dotti a little bit more geometry. Luckily, it's lightweight and constructed from highly durable plastic that seems to do a great job of cushioning falls. Looking around Dotti, there are very few things fashioned onto it. Specifically, the only two notable things are the microUSB port in the rear to charge Dotti, and just a pinhole sized master reset button on its underside – and that's all!
While the premise of Dotti is direct, much like its design, there's actually a lot of tech involved with how it operates. Peeking closely to the front surface of Dotti, there are exactly 64 square shaped boxes that hide away LEDs, which are soundly protected by a thick clear piece of plastic. Now, the 64 squares allow Dotti to produce some interesting patterns and animations with the help of those LEDs behind each one of them. On top of that, the top surface of Dotti is touch sensitive – so various touches and swipes enable us to navigate through Dotti's various functions.
And let us tell you, the light emitted by each LED is blindingly potent! Not only is it extremely bright, allowing it to maintain its potency even in the brightest of conditions, but each square has the ability to be individually colored – that's where Dotti's unique spin to the whole notifications delivery system comes into play!
The minimalist design of Dotti matches its unconventional function, but our single complaint to the design are the pointy corners on its façade. They're sharp enough to cause more than superficial cuts to the skin if enough pressure is applied.
Recommended Stories