Be careful – the Steamy Window application for Android may contain a virus
12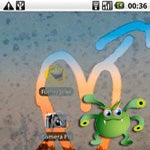 The wide spread of smartphones on the market means that personal computers are no longer the only target of hacker attacks – if you have a cell phone working under operating system you need to be as alerted about viruses as you are with your computer. A good example is provided by Symantec that discovered and published on their blog information about a modified version of the funny Steamy Window application, reportedly found on an unofficial 3rd-party app store.
Besides its basic functionality (the screen turns into steamy window that can be cleaned using your finger) the infected version requires access to your personal data, messages and a full Internet access. After the installation process is completed the application starts adding bookmarks to your browser (most of them leading to other infected websites), installing applications and sending text messages, all of these of course without any notification or warning.
Symantec recommends that you are always alerted when given program requests some permission or wants access to your personal data and if any of these requests look suspicious it is always better to cancel the installation. It is also a good idea to install only applications from the official Google catalogue - Android Market. There you can find the safe version of Steamy Window that is created by Swiss Codemonkeys.
source:
Symantec Connect
via
Los Angeles Times