Battle of the OSes: Apple to eclipse Microsoft, Android to eclipse both combined (in terms of units shipped)
36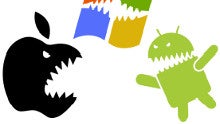 Amidst market hardships, Apple may have a reason to lighten up. A report published this Monday by Gartner claims that its analysis of total shipments points towards a trend that may serve as the undoing of Microsoft and a break with one of the cornerstone assumptions of several generations. According to the market research firm, devices running Apple's iOS and Mac OS will outsell those relying on Windows (including Windows Phone).
Basing the prediction on shipment data may not be as reliable as actual sales figures, but the analysts behind the forecast must feel it provides a sufficient degree of dependability. Gartner analyst Carolina Milanesi notes that in 2012 the Redmond software company had a firm grip on the market with a lead of about 134 million over Cupertino in terms of devices shipped. Gartner anticipates that by 2014 that lead will melt to about 23 million and then turn around in favor of Apple by 2015. Milanesi points out that Apple is already leading in the consumer market, but the enterprise industry traditionally remains a steadfast domain of Microsoft.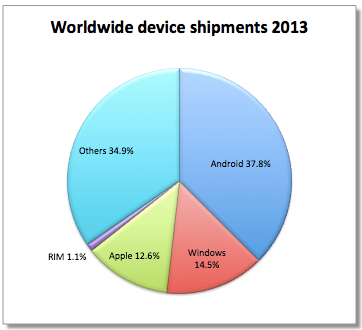 The company makes another staggering forecast, but this one may be less surprising for some – Android will top 1 billion shipments sometime next year, thus eclipsing both Microsoft's and Apple's figures combined. This is in part a result of the continuing growth in the tablet and smartphone sectors where Android has already established a foothold. Analysts believe tablet shipments will grow from 120 million last year, to 202 million this year followed by 276 million for 2014. Smartphone shipments are believed to reach just short of the 2 billion mark – quite impressive, indeed.
Another interesting piece of information we glanced from the report is the continuing decline of desktop and notebook computers – a reduction in shipments of 11% by next year with another 5% queued up for 2014.