Battery issues affecting your Motorola DROID Turbo?
37
With a 3900mAh battery inside, the
Motorola DROID Turbo
still remains a beast even though it is more than 6 months old. A 5.2-inch AMOLED screen with a 1440 x 2560 resolution combines for a 565ppi pixel density. A Snapdragon 805 SoC is under the hood which includes a quad-core 2.7GHz CPU and the Adreno 420 GPU. 3GB of RAM is inside along with 32GB/64GB of non-expandable storage. A 20.7MP rear camera comes with an aperture of f/2.0 for quality pictures under low-light conditions. A 2MP front-facing camera handles selfies and video chats. And yes, there is that 3900mAh battery that
both Motorola and Verizon said would last for up to 48 hours
.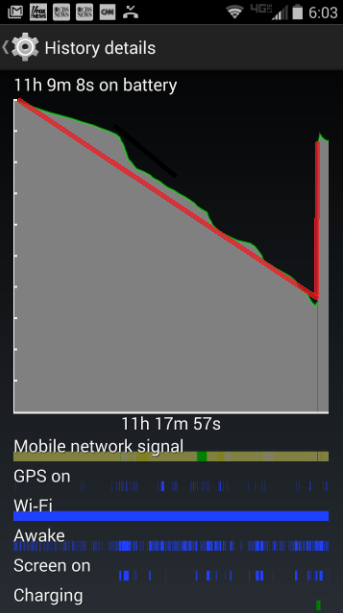 Motorola DROID Turbo experiences some strange battery behavior
Of course, the anecdotal evidence is that the phone is providing much less than 48 hours of life. Back in October, when we tested the phone,
it provided 10 hours and 43 minutes of screen time putting the phone on top of our list
. It also full recharged in just 126 minutes, among the faster charging times. With the Turbo Charger, 15 minutes of power plugged into the device gives the phone up to 8 hours of battery life.
But some DROID Turbo owners are complaining about a problem that is not allowing their handset to give them a legitimate look at how much battery life is left on the phone. In addition, some apps are draining the battery in a ridiculously quick timeframe that is preventing users from getting anything close to the battery life the phone provided in our test. And when the Turbo Charger is plugged in, sometimes the battery shows a huge leap in life that is almost too good to be true. Take a look at the image that accompanies this story. After the phone was plugged in for just a couple of minutes, the battery life went from under 40% to over 80%. The trend lines on the graph showing the battery use and the charging are just too steep.
One problem could be an issue with the handset's Wi-Fi connectivity. When the phone is powered off and turned back on with the Wi-Fi turned on, it often will not connect with a hotspot that you were just connected to. The DROID Turbo then starts a battery draining cycle trying to continuously connect to the Wi-Fi signal. You need to make sure that Wi-Fi is turned off before you turn the phone off.
There are some suggestions from DROID Turbo users. Some say to turn the phone off for two hours while recharging to 100% to recalibrate the battery indicator. Others say that the battery should be drained completely and recharged to 100% a couple of times. The device still runs on Android 4.4.4 and there is some hope that Motorola will fix this issue
with the update to Android 5.1 that is promised
.
Verizon has recently cut the price of the Motorola DROID Turbo
with the 32GB model just $99.99 on contract and the 64GB version priced at $149.99. Off contract, the pricing is now $499.99 and $599.99 respectively.