Barnes & Noble asked DoJ for Microsoft investigation
21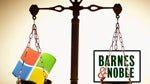 As recently as July
Barnes & Noble has asked for the Department of Justice to investigate Microsoft for anti-trust behavior
. Barnes & Noble claims that Microsoft bullies smaller companies with threats of lawsuits over "frivolous" patents, making the cost of entry into the portable device market prohibitively expensive.
In addition to
doubting the validity
of many of the patents that Microsoft is asserting against them, Barnes & Noble says that by asking for exorbitant licensing fees Microsoft effectively bars smaller players from being able to compete against large companies like Samsung and Nokia, which can afford to those licensing deals. The result says Barnes & Noble, is a market where large companies are entrenched favorites and smaller companies cannot compete against them.
The Justice Department is paying close attention to the situation
, as a raft of recent patent lawsuits has embroiled the mobile industry. Many larger manufacturers like Apple, Samsung, and Motorola are
seeking injunctions
to prevent products from selling, while Microsoft has taken the tact of trying to collect royalties on every handset sold.
It is thought that the Justice Department is most concerned with attempts to block products from shipping, but if Microsoft is charging fees so high that they prevent newcomers from entering the market it is likely that they will review Microsoft's actions as well.
In April the Justice Department forced Microsoft to give up patents it had acquired as part of a joint buyout of Novell Inc. Microsoft instead had to license those patents, while Apple and other joint buyers had to promise they would not assert them in anti-competitive ways.
source:
The Wall Street Journal