Banks about to close on $45 billion in financing for SoftBank's possible T-Mobile bid
20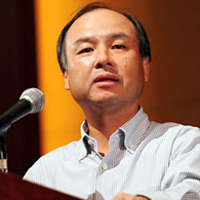 A published report on Wednesday revealed that Japanese telecom firm SoftBank is close to receiving $45 billion in financing from a number of banks including CitiGroup, JP Morgan and Bank of America. The amount of money provided in the financing could be reduced to $40 billion depending on how a deal for T-Mobile shapes up.
Meanwhile, SoftBank Chairman Masayoshi Son and Sprint CEO Dan Hesse are expected to come to a decision soon, on whether or not to go ahead and make an offer for the nation's fourth largest carrier. In meetings with both
the DOJ
and
the FCC
, SoftBank did not receive the reception for the deal from the U.S. regulators that it was hoping for. Both the DOJ and FCC were wary of a deal that would merge the nation's third and fourth largest carriers, despite SoftBank's stand that the deal was the only way to challenge Verizon and AT&T. Of the 225.2 million mobile subscribers using one of the top four U.S. mobile operators, 75% are customers of either Verizon or AT&T.
Even though Son really wants to forge ahead and make the bid official, both SoftBank and Deutsche Bank have agreed not to continue if there is no hope of getting the regulators in the U.S. to warm to it. The German telecom owns 67% of T-Mobile and it is this block of stock that SoftBank covets. But if there is no hope of getting an approval, Son will have to swallow his pride. The executive already said that SoftBank can't afford to pay a huge break-up free if the deal is quashed.
"SoftBank's argument about a super-maverick could make sense at some point in the future, but not now when T-Mobile is winning more market share than anyone else. Before this week I saw the likelihood they could complete the deal as about 25 percent, now I put it below 10 percent."
-Chris King, analyst, Stifel Nicolaus & Co.
While Son and Hesse talk about a Sprint-T-Mobile combination being a "Super Maverick" and shaking things up in the industry, the truth is that T-Mobile is doing this already, on its own. Led by consumer-friendly CEO John Legere, T-Mobile has been the most innovative firm in the business. Many believe that the U.S. regulators are taking a tough approach with Son and Hesse because they want to see how far T-Mobile can take the entire industry by itself, over the next few years.
source:
Reuters
,
CNBC