Ballistic Hydra iPhone 5 case review
2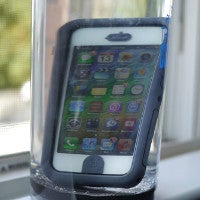 There's no questioning it folks, there's that premium element attached to the iPhone's design. Flaunting that solid brushed aluminum casing, it's something that causes owners of the handset to handle it with care, seeing that they want to maintain its prestigious look. However, we can vouch that by itself, it wouldn't survive extreme events – like drops or submersion under water.
Now, we've covered several cases from Ballistic in the past, which consist mainly of rugged styled ones, but with its latest offering in the Ballistic Hydra case for the iPhone 5 (and presumably the iPhone 5s too), it's diving into a totally new category. Essentially, it's IP-68 certified to be waterproof, dirtproof, dustproof and impact resistant – all of the qualities that would make it to be "
designed to survive life
." Therefore, once it's on, you know damn sure that this thing is going to protect the smartphone, even if you're just a clumsy person.
Much like the other stuff from Ballistic's camp, the design of the Hydra case for the iPhone 5 doesn't deviate from the company's style. It's not fashionable, nor it should be due to its rugged nature, but at least the company offers it in different color patterns for more variety. Gone is the streamlined profile of the handset, as it's thickened due to the amount of padding the case has with it – but hey, at least it's still easier to hold in the hand over some of the giant sized smartphones out there.
Comprised out of three specific components, a rear panel, a plastic front casing, and a third front guard that snaps over the front plastic casing, there's some work needed to put in or remove the case – so once it's on, we're unlikely to remove it. With the materials, it's crafted with thermoplastic elastomer and durable polycarbonate so that it meets military specs for protection. At the same time, it's able to endure drops from a maximum height of 8 feet without worry, mainly because it features Air Gap Suspension Springs that provide a 1mm gap between the case and phone for cushioning.
Best of all, it's waterproof under 7 feet of water for up to 30 minutes. Even though we dunked it in a foot of water for 10 minutes, we're impressed that it's able to keep the handset dry. However, seeing that the case requires an air tight seal, the headphone jack is hard to access because it's recessed – thus, requiring those adapters to connect most headphones. In addition, the volume output of its speaker and earpiece become suppressed, making it difficult to make out our conversations.
In the end, you have to ask yourself if you really need a ruggedized case like this. On one hand, it does a stellar job in protecting the iPhone from a host of things, but phone calls become a process due to the suppression with its volume. Then again, a quick Bluetooth headset would remedy it. Donning a price point of $80 online, it's pretty much in line with the other various waterproof cases on the market. It's not the coolest looking one out there, but it gets the job done by sufficiently keeping the handset from harm's way.
source:
Ballistic
Ballistic Hydra iPhone 5 case review photos