Bad Piggies is now available on iPhone, iPad, and Android
7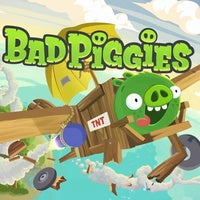 Right on schedule, Rovio's latest video game Bad Piggies has been released on both the Apple App Store and Google Play. And considering that the title comes from the same folks who brought us Angry Birds, productivity across the entire nation might be at stake here.
The challenge in Bad Piggies is to construct a contraption, which the pigs get to ride on their way to collecting the stars scattered across the level. Speaking of levels, there are 60 of them to beat, and getting all stars unlocks 30 additional puzzles for you to solve. In addition, there are four sandbox levels, on which players can practice their building skills. The contraptions can be constructed out of a variety of objects, each with its own unique function, such as motors, wings, fans, bottle rockets, balloons, and much more.
Long story short, Bad Piggies is the game, in which pigs will literally fly. In case you want to try it out for yourself, just follow one of the links we have provided below. The iOS version of the game is priced at $0.99, while the Android release is free, supported by advertisements. Windows Phone users, rest assured that you'll get the chance to join the fun in the near future. Now excuse us while we go and take Bad Piggies for a spin.