BBM Meetings is a new app for multi-platform conference calls, priced at $13.75 a month
7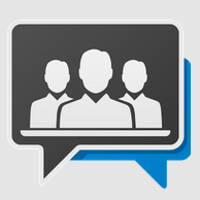 BlackBerry has introduced a new app called BBM Meetings that will allow up to 25 people to participate in a conference call at the same time. Features include screensharing, and the app allows the user to turn a chat into a real live meeting with the click of a button. While on the go, meetings can be scheduled using an address book, email, or BBM. You can even invite others to take part in a conference call while in the middle of visiting clients, or making sales calls.
Perhaps one of the best features of the app is that it eliminates the need for PIN numbers or ID codes. Answer the phone as though you were picking up a regular phone call, and you are connected to the meeting. And the system supports phones powered by Android, iOS, Windows and BlackBerry. BlackBerry users must have OS version 10.
2.1
or later. Android 4.0 or later is supported, as is iOS 7 or later. We should point out that iOS compatibility is "coming soon."
A 30-day free trial is being offered. After that, BlackBerry Meeting is $13.75 per month, per host. If you're interested in the app, visit the Google Play Store or BlackBerry World.
source: BlackBerry (
Android|
BlackBerry)
via
MobileSyrup