Au revoir, Nexus 5! Google is no longer officially selling its 2013 champion
25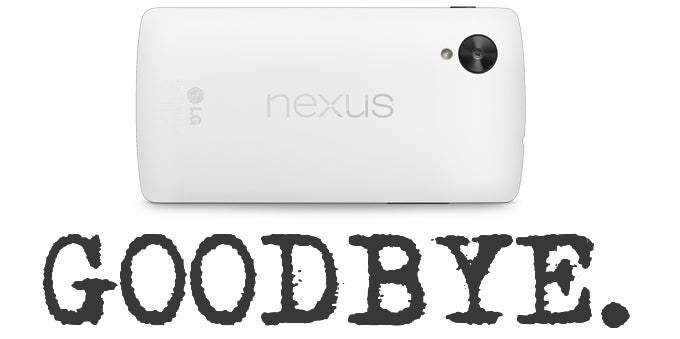 The end of an era has come - Google has officially stopped selling the Nexus 5 through its new
Google Store
(the former Devices section in the Play Store). Despite that "some inventory of Nexus 5 still exists (with our retail and carrier partners)", Google's "focus is on the Nexus 6 at this time", a Google spokeperson told The Verge.
As we had heard late list year, Google was to sell its 2013 LG-made flagship
throughout Q1 2015
. The quarter is about to end soon and Mountain View has seemingly done what it had promised. Fortunately, you can still get a new Google Nexus 5 from a majority of online retailers and brick and mortar stores.
The Google Nexus 5 was made by LG and broke cover in late 2013, donning a 1080p display, a Snapdragon 800 MSM8974 chipset, 2GB of RAM, an 8MP rear camera, and a 2,300mAh juicer at the back. All of this was garnered with an affordable price tag. With a PhoneArena rating of 9.5, the Nexus 5 is undoubtedly one of the best stock Android champs Google has ever sold.
Don't forget to check out our full review of the device if you're feeling nostalgic and take one last gander at its silhouette in the gallery right below.