Atari co-founder says mobile games make him want to throw his phone
17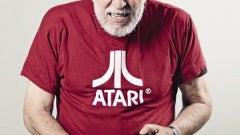 The likes of the App Store and Google Play have truly morphed the mobile gaming landscape. Handheld consoles have largely been phased out as gaming fans instead score their fix through smartphones and tablets. Some of the video gaming world's pioneers, like Sony,
have long embraced the new opportunities
, while others—namely Nintendo—
have only recently taken the bait
.
Atari
is a name synonymous with what many would deem the Golden Era of gaming, and at 72 years of age, its charismatic co-founder Nolan Bushnell has seen (and overseen) plenty of change. In an interview with
The Guardian
, the so-called
'godfather of video games'
has shared some of his observations on the present state of the industry.
Bushnell is not one to shy away from making his feelings known. Back in 2013, he famously quipped that Apple CEO Tim Cook
'is no Steve Jobs'
, and doesn't mince words in his assessment of the current mobile gaming situation that Apple's late co-founder helped to build. He believes in spite of the wealth of technologies available nowadays, they're not being properly utilized:
Generally, a tremendous number of mobile games are poorly designed. . . They can be so focused on graphics that they forget they have to get the timing right, and they have to have proper scoring constructs. I have been so pissed off with some mobile games I've wanted to throw my phone, even if I'm only going to hurt my phone there, and not the game
The benefits of network connectivity and social gaming is something that most of us take for granted. Bushnell always wanted to apply such functionality during the early days of Atari, but the tech, of course, just wasn't in place. The idea of competitive, connected gaming is a virtue that Bushnell still holds dear, and having joined forces with Dutch publisher
Spil
as an advisor, it will be interesting to see what kinds of projects spawn from the collaboration.
The first of three Bushnell-influenced titles is slated to arrive early on next year. The full interview, which is an enjoyable read for any long-time gaming fan, can be viewed at the source.