Asus unveils the ZenWatch, an Android Wear smartwatch with head-turning design
18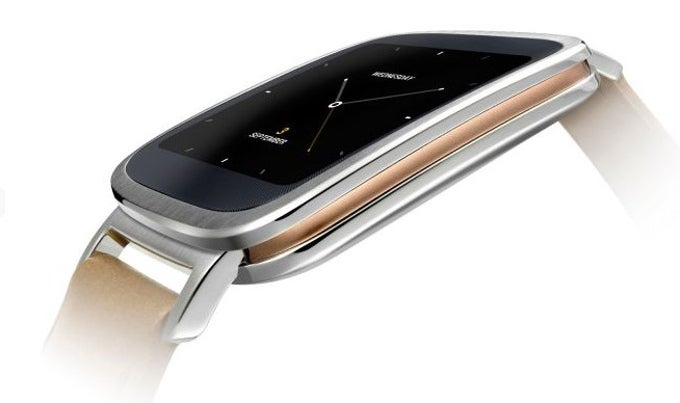 Today at IFA, Asus finally unveiled its first smartwatch - the Android Wear-powered Asus ZenWatch. We had hear quite a lot about this so-called "hero" device, and it's finally here to wrestle against its Android Wear contenders. With a Snapdragon 400 SoC, 512MB of RAM, and 4GB of storage aboard, the device surely has nothing under the hood to be ashamed of.
Several months ago, the chairman of Asus revealed that the device will rely on its design to
lure potential buyers
, and it seems that the maker has done so indeed. At first sight, the wearable strikes with its eye-pleasing exterior, which comprises oval angles and a beautiful stainless steel build. It comes with slightly arched sides and a moderately-curved, 2.5D display, which is 1.63 inches big and has a resolution of 320 x 320 pixels. The manufacturer claims that the stitched genuine leather strap of the ZenWatch embellishes
"iconic Italian design"
. The quick-release clasp is another nifty addition to the ZenWatch's bag of features. The ZenWatch is not afraid of the water, too - it has an IP55 certification and will survive relatively strong water jets.
"Our design philosophy is Start with People. We want to deliver a seamless digital experience for everyone to enjoy. With our ZenWatch, you will always be connected to everything that matters in your life,"
said Mitch Yang with Asus.
Design aside, the Asus ZenWatch is running the company's home-made ZenUI user interface on top of Google's wearable platform and comes with more than 100 watch faces. It also comes with the rumored gesture-based features that we first heard about more than half a year ago. But what are these, exactly?
Well, thanks to the Tap Tap feature, which got showcased during Asus' keynote, its user can easily tap the display and locate the paired smartphone. Another interesting functionality, Cover to Mute, does just what its name suggests - when someone's calling you and your ZenWatch is notifying you about this, you can simply cover the latter and it will mute itself. Some of the other onboard features are Remote Camera, which allows you to take pictures remotely, Presentation Control, Find My Phone, and Watch Unlock.
It also comes with the usual health-centric and fitness-oriented features that we are normally being treated to with each and every new wearable device. The ZenWatch measures the steps you've made, how many calories you've burned, your heart rate, relaxation level, and many more.
Initially, we heard that the device might retail between $99 to $149, but this won't be the case, at least at first. Asus announced that it will be selling the ZenWatch for EUR 199, which translates to roughly $260 (before taxes and subsidies).
source:
Asus