Asus Zenfone 5 and Zenfone 6: first camera samples
12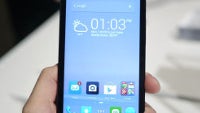 Asus staged quite the surprise for smartphone fans at CES2014 in Las Vegas, introducing as many as three new Zenfones, along with two PadFone devices. That's a lot of Asus, and the Taiwanese company sure piqued our interest.
The Asus Zenfone 5, as the name suggests, is a 5-inch device, and is in the golden middle in the company's new portfolio of super-affordable smartphones, at least size-wise. Slated to retail for just $149, it's no surprise that the specs found squeezed within this 5-incher are not exactly top notch, but they sure aren't bad either. We're talking a 720x1280 pixel resolution IPS screen, a 2GHz dual-core Intel Atom Z2580 built on Intel's 32nm HKM process, 1GB of RAM and an 8-megapixel camera with f/2.0 aperture, an LED flash and auto-focus capabilities. Next up, we've got the Asus Zenfone 6, which is a full-sized phablet, with its 6-inch, 720x1280 pixel resolution IPS display. It's also on the cheap, costing $199, while still packing some pretty decent hardware, all things considered. It packs the same 2GHz dual-core Intel Atom Z2580 chipset found on the Zenfone 5, 1GB of RAM, and also an improved, 13-megapixel f/2.0 aperture camera. Lastly, the battery is also quite massive, clocking in at 3230mAh.
We actually had a chance to see how the cameras on these two devices handle themselves, as we snapped a few sample shots. You can see the results below, though do keep in mind that quality is subject to change, seeing as these are not final, retail units.