Asus ZenWatch 2 arriving this year, says CEO; will launch at Computex
6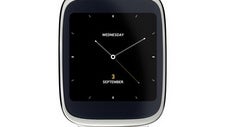 It was in late April that Asus CEO Jerry Shen supposedly said that the company's ZenWatch successor
would not be arriving until next year
. Somewhere along the line, wires were crossed, since new reports out of Taiwan have Shen confirming that the wearable is on track to make its retail début in the third quarter of 2015.
While in New Delhi, overseeing the Indian launch of the
Asus ZenFone 2
, Shen reportedly said that the ZenWatch 2 wouldn't be headed to market until 2016, which contradicted his earlier assertion that it would be ready by Q3 2015. Those reports have now been dismissed by the Asus chief as a
"misunderstanding,"
and so the ZenWatch 2 will indeed be ready for its grand unveiling at Computex Taipei.
Computex Taipei, for those unfamiliar, is one of the foremost computer trade shows on the planet, and with proceedings set to begin on the week commencing June 2nd in the Taiwanese capital, we shan't have to wait long to see what the ZenWatch will entail.
Obviously, it will run on Google's Android Wear, but Shen is keeping tight-lipped with regards to the feature improvements. He has, however, shared the fact that battery life isn't
as
enhanced as his company was hoping. Asus apparently set itself a target of a seven-day battery life with the ZenWatch 2, but Shen now believes that it may
only
manage four days -- not exactly bad news given that most Android Wear smartwatches hover around the one-day mark.
In fact, in our own, original
ZenWatch review
, we found that it'll last about a day's use before requiring a recharge. By taking additional battery-saving measures, such as deactivating the always-on display, the ZenWatch may even continue powering for longer. But make no mistake -- if the ZenWatch 2 can muster four days of battery, it'll be Android Wear's very own miracle worker -- regardless of whether it falls short of what Asus had anticipated.
With the Apple Watch having thrown the proverbial cat among the pigeons, there's added emphasis on each and every Android Wear smartwatch that arrives this year. The pre-order total of Cupertino's wrist computer reached
almost one million units
in the first day alone -- considerably more than the total figure of Android Wear devices shipped throughout the entirety of last year.
Along with the improvement to battery life, the Asus CEO earlier noted that there will be two different editions of the ZenWatch 2 -- one for men, one for women.
We'll be sure to keep you up-to-date with any further details as and when they arrive, and while we're not holding our breath on the four-day battery claims, the ZenWatch 2 will need to impress given the wider expansion of the smartwatch market.