Asus Transformer Prime GPS location test
7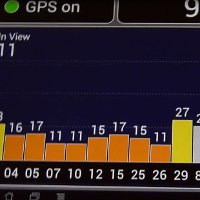 Now that we have the
Asus Transformer Prime
in our hands, we simply have to know whether or not if these troubling GPS fix issues are actually plaguing the highly prized tablet. Recently, a
new software update
was made available for the Transformer Prime, which alleges to fix the GPS location problem affecting some units – though, others have claimed that there are no problems whatsoever. In any event, the
results have been mixed so far amongst users,
with some saying yay, while others saying nay. Interestingly enough, we've even reported that the update merely compounds the issue even further, with some owners actually
saying that it has made things worse
!
Before proceeding with the GPS location test, we verified that our review unit is running the most up-to-date software, and rightfully so, that appears to be the case. From what we've read, the latest software updates the tablet's GPS driver, which should be at
version 6.9.13
– and yes, that's exactly what we find on our Asus Transformer Prime. Using the
GPS Test app
by Chartcross, we proceeded to test out the GPS signal strength of the tablet. In under a minute, it's able to establish connections to
11 different GPS satellites
, though, the signal strength appears to be
low
– albeit, it's worth noting that we tested it out indoors and far away from a window. However, after moving closer to a window, we begin to see the GPS signal strength increasing ever so slightly, though, it's still on the weak side.
As a comparison, we used a
Motorola DROID RAZR
to see what the results are going to be in the same place. Right away, it's quickly able to establish connections to the various satellites, however, it's never really able to get connected to all 11 satellites simultaneously indoors at the same location we're testing out the Transformer Prime. Despite that, it's actually putting out
better signal strength
to the satellites it's able to connect. So yes, the GPS signal strength appears to be higher than the Transformer Prime in the same exact locations. Although we don't want to say for sure right now whether or not it is indeed a problem, it's evidently clear that it's weak from the start, but of course, we'll be testing it outdoors as well to see how it fares. In the end, it does beg the question if the problem will ever be fixed, even when it's
reported to be a hardware problem
as opposed to software.