Asus Transformer Prime getting redesign to fix GPS and add upgrades
26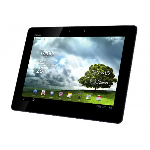 Asus has essentially acknowledged that it made a mistake in the design of the Transformer Prime by announcing there will be a redesigned Prime coming in Q2 with a couple extra upgrades as well. We haven't seen any demos or pictures of what the redesign will actually entail, but given
why the Prime has been having
problems, we can expect that nice aluminum casing will have at least a block of it swapped out for plastic.
Other than the redesign, Asus is making this model of the Prime (supposedly model TF700T) a bit of a premium model compared to what is on the market now. Overall, the specs are the same as the Prime that's on the market now (model TF201), the same Tegra 3 processor, same dimensions, same connectivity and storage options. The two bumps that this model will be getting are in a 2 MP front camera instead of the current 1.2 MP, and the Super IPS+ display will be bumped up to 1920x1200 resolution instead of the 1280x800. It wasn't part of the report, but we feel safe in assuming that this model will ship with Ice Cream Sandwich.
Unfortunately, it looks like the upgrades are bumping up the price a bit as well with the 32 GB starting at $599 and the 64 GB at $699. The new Transformer Prime is expected to be released in North America in Q2 of this year.