Asus PadFone will solve the problems of "tablet hesitators"
23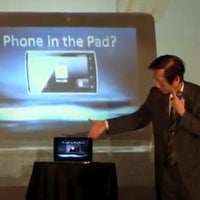 But this here explanation of the target group for the Asus PadFone is particularly interesting. "Tablet hesitators" - that's the group of people Asus thinks will be looking to buy the PadFone, a handset that slips into a tablet chassis, which in turn fits a keyboard dock, much like a matroska nesting doll. This means that you essentially pay for only one device with all the processing power, and everything else - the tablet screen and keyboard come as an additional, cheaper accessory.
"There is a massive segment of the market called the

"tablet hesitator"

and those guys aren't buying our tablets,"
Asus said at MWC.
"And they aren't buying iPads or Samsung tablets because they haven't got it yet - they don't want the double expense and they don't want to feel they are being fleeced by the operator on two contacts.There is a whole raft of reasons. What our solution does it try to answer the reasons for that tablet hesitator to get them involved."
Benson Lin heading Asus' handheld department then quoted numbers saying 55% of smartphone owners wanted a tablet, but only 13% bought one. Asus looked at the huge majority that didn't get one and asked them why.
"Many said they didn't want to pay the extra money for it or the extra data plan. We have done a lot of surveying and we think that is what people want. We are always trying to solve a problem."
Does the Asus PadFone solve your problems? Let us know in the comments below.