As many as 5 million Android handsets infected with newly discovered trojan
75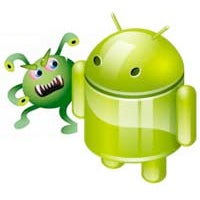 Symantec has released information about a newly discovered threat known as "Android.Counterclank." It is a variant of a previously discovered Trojan horse called "Android.Tonclank."
The malware is embedded into various apps in the Android Market and once downloaded, launch services that send information from the device, such as MAC Address, SIM Serial, IMEI, and IMSI, back to the malicious host.
Symantec has estimated that Android.Counterclank has been installed on between 1 million and 5 million devices. One sure fire way to know you're infected is the presence of a "search" icon on the home screen, which is depicted in the graphic below.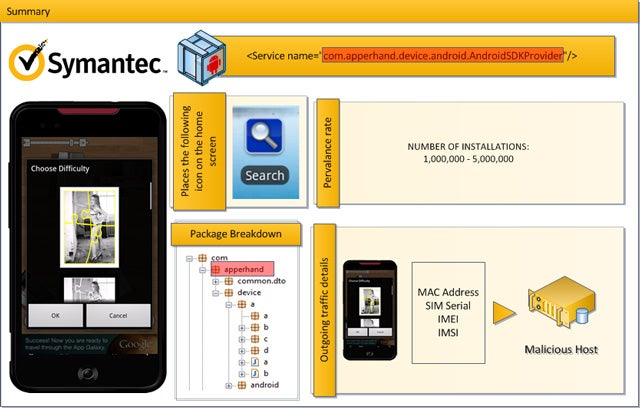 Symantec has identified several malicious app titles spread out over 3 publishers. They are:
iApps7 Inc
Counter Elite Force
Counter Strike Ground Force
CounterStrike Hit Enemy
Heart Live Wallpaper
Hit Counter Terrorist
Stripper Touch girl

Ogre Games
Balloon Game
Deal & Be Millionaire
Wild Man

redmicapps
Pretty women lingerie puzzle
Sexy Girls Photo Game

Sexy Girls Puzzle

Sexy Women Puzzle
Update:

Removing the associated application should remove the malware from the device.
1. Open the Google Android Menu.
2. Go to the Settings icon and select Applications.
3. Next, click Manage.
4. Select the application and click the Uninstall button.


You can also install Norton Mobile Security from the Android Market or from the norton.mobi website.
Norton Mobile Security Lite [Android Market Link]

Finally, you can always perform a factory reset, however, in most cases, you will lose any data that is not backed up.

source: Symantec via WMPowerUser