As expected, the 32 GB version of the Nokia Lumia 1520 is now available online from AT&T
7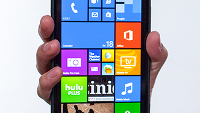 Some rumors do come true. Just a few days ago, we passed along the word that
the 32GB version of the Nokia Lumia 1520 would be available from AT&T on January 10th
. So what do you know, today is the 10th of January and sure enough, the 6 inch Windows Phone phablet can now be purchased from AT&T's online store. And the impressive part of this whole story is that the extra 16GB of native storage will cost you just $50 over and above the 16GB model's price of $199.99 on contract.
That's right, for $249.99 and your John Hancock on the dotted line of a two-year pact, the 32GB version of the
Nokia Lumia 1520
is yours. And not only is this the first Windows Phone phablet, it also is the first phone on the platform to have the GDR3 update included. This is the magical update that allowed Nokia to fill the Lumia 1520 with specs that you would previously find only on high-end Android handsets.
The Nokia Lumia 1520 has a 1080 x 1920 FHD resolution on its 6 inch glass. And under the hood is a quad-core Snapdragon 800 CPU with 2GB of RAM. Did you ever think that you would be able to associate those numbers with a phone powered by Microsoft's mobile OS? And
if
when the
Nokia Icon
is finally introduced and stays on Verizon's website
for more than a few minutes
, Windows Phone users will have a phone (not a phablet) that can stand next to the
Samsung Galaxy S4
and
LG G2
, to name a pair.
But we digress. Our message right now is that for a measly $50 more, you can score yourself the Alpha male of the Windows Phone family, loaded with 32GB of native storage that allows you to keep all of those pictures, tunes and apps on your phone.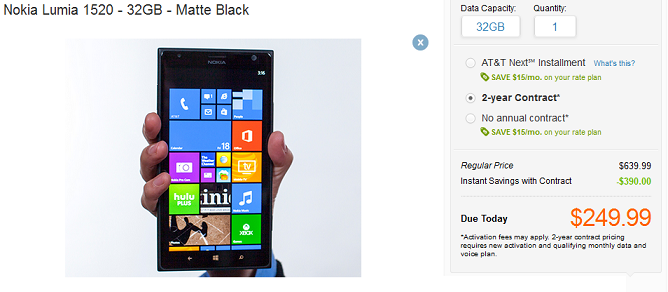 The 32GB variant of the Nokia Lumia 1520 is now available for purchase online at AT&T
source:
AT&T
via
WMPoweruser