Aria adds gesture control for Android Wear or Pebble Time watches
3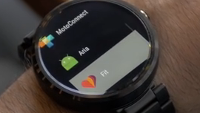 A small clip-on device for your Android Wear or Pebble Time smartwatch can add gesture control to your timepiece. Called Aria, the device is able to detect finger movement by monitoring your wrist. Aria can differentiate between finger tapping and flicking, and with the configuration app, you get to decide what the result of each gesture will be.
Aria is heading to Kickstarter where it hopes to raise funds for production of the accessory. The version for Pebble Time connects directly to the watch, and at $69 it won't require either a separate battery or a Bluetooth connection. On the other hand, the Android Wear version is a bit pricier at $169, but comes with its own battery and uses a BLE connection. It clips on to the watch band and has an SDK to allow developers to integrate the gesture control into Android Wear apps.
Aria is expected to be added to Kickstarter sometime in the next few weeks. Once it is posted on the crowdfunding site, you'll be able to fund the product while ordering one at the same time. In the meantime, you can learn a little more about Aria by clicking on the video below.
source:
Aria
via
TechCrunch