Are your Google Keep notes in utter chaos? Don't worry, they'll sort themselves out after the next update
3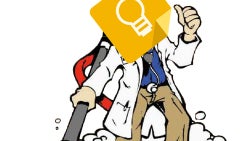 Google's Keep service is a pretty nifty app for taking notes – it's simplistic and quick, allowing you to jot something down with ease and then return to it at a later time from pretty much any device you have handy. However, the ability to write something down on a virtual post-it note with such haste and then just forget about it has created some problems for avid Keep users – a plethora of notes piled up inside the app.
Thankfully, there's a search function, which is pretty much able to track down any word in any note. However, Google is looking to automate the process even further. After the latest update, Keep will be able to generate categories out of your notes automatically – for example, it should be able to recognize shopping lists, travel notes, and other such topics. When you enter the Search menu, you won't have to type anything – just tap on one of the auto-generated categories and it will show you all the notes that match said topic.
The new update is already up on the Google Play Store, Apple App Store, and the feature is available on the web version of Keep as well.
#GoogleKeep organized. Search automagically created topics like books, food and quotes for @Android, iPhones and web pic.twitter.com/wccSbThYpQ

— Google Docs (@googledocs) June 29, 2016
source:
Google (Twitter)
via
PhoneDog