Are you subscribed to a music streaming service like Spotify or Apple Music? (poll results)
17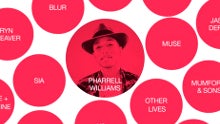 While we've been able to listen to music on the go for decades now, we always had to bother with ripping our songs library to a disc or loading it to our mp3 players before playback. With online music streaming services like Spotify, however, this all changed, and the likes of it are now among the most popular apps available to smartphone owners. Naturally, a ton of people choose to pay for the convenience of having access to the latest and trendiest at the cost of a some cash and a few taps on a touch screen.
Which service is our audience's favorite, however?
That's what we sought to answer yesterday
when we asked you to vote for the service(s) you subscribe to, if you're subscribed at all. Voting is now closed, and the results are in.
Starting off with the 'winner', the biggest piece of the pie goes to those among us that don't at all subscribe to paid streaming services. With a 35.96% share, that's a pretty significant group, but still means that the majority of people subscribe instead of the opposite. Speaking of them, most prefer Spotify, with the renowned service gathering 29.35% of the votes, followed by Google Play Misc with 12.9%. The bronze goes to Apple Music with 8.1%, which is impressive considering it's been on the market for less than half a year. The rest of the services all received under 3%, and you can see their share right below: