Are you planning to switch carriers if you have to abandon Verizon's unlimited data plan?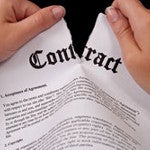 The grandathered plans "axe" gem that
came out of CFO Fran Shammo at an investor conference
, caused quite the backlash and openly voiced displeasure from customers on forums and in comments. A lot of them threatened to move away from Verizon for alternative options, if the carrier goes through with these plans.
Alternatives would be moving to T-Mobile, Sprint or a regional carrier, all of which have unlimited data options with varying degrees of small print, like T-Mobile throttling users after a certain cap, but no overage charges.
That is why we wanted to ask you, dear reader, if you plan to make the switch from Verizon to something else, in case you have to give up your grandfathered unlimited for some reason. Check an option that suits you in the poll below, and sound off in the comments for the world to see.