Are smartphones a drag on the economy?
17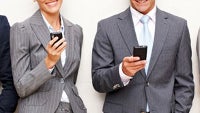 Considering the amazing things that can be done on a smartphone that could not be done before, you would certainly consider the smartphone to be an
important tool
for business. By allowing everyone to stay in touch and allowing for instantaneous sharing of documents and ideas, certainly the smartphone has to be considered a time-saving device that has allowed the economy to flourish. Or is the smartphone a distraction, full of ways for businessmen to lose their focus as they post pictures of a huge steak on Instagram and send Vine videos about non-job related topics.
According to Mary Meeker's 2013 Internet Trends, the average smartphone user accesses his/her device
150 times
a day. Considering 7 hours of sleep, that leaves an average of 9 smartphone sessions an hour. Of course, that might include time on the potty. Other averages computed by Meeker include pulling out the ol' smartphone 18 times a day to check on the time (thankfully those new smartwatches are coming!), 13 times a day to play music, 12 times for gaming and 9 times to access social media. And there is more. The average smartphone user is grabbing his/her handset 8 times daily to snap a picture and 8 times a day to use the alarm. Where is the time for more productive use of the device?
So is the smartphone a time-saving tool that makes us more productive, or is it a black hole that eats up many of our hours each day. Do you find yourself saving time on the job thanks to your handset, or wasting time on the job thanks to your handset? You can give us an honest answer by responding in the box below.
source:
Forbes