Archos launches $129 ChildPad with Ice Cream Sandwich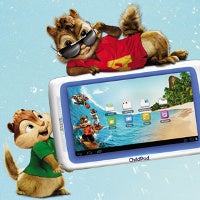 The
Archos ChildPad
is a 7-inch tablet for $129 that looks like a toy, and comes aiming squarely at your kids attention, but it also features some decent hardware for the price. The "Alvin and the Chipmunks" theme is all around and might fool you into thinking that's just a plastic toy, but Archos goes the extra mile to explain that this is "a real tablet." Moreover, it runs on Android Ice Cream Sandwich, features a 1GHz processor and a front-facing camera.
The Archos ChildPad does take some shortcuts to cut down the price and the biggest two are its resistive screen and lack of Google's Play app store. The resistive screen means that your kid will need to apply slightly more pressure to get things going, while the lack of Google Play is compensated with a ChildPad-specific filtered AppsLib catalog. You also have parental controls so your kid doesn't accidentally bump into online filth.
Another thing to take into account is that the ChildPad has only 4GB of internal memory, but you can easily fix this by adding an external microSD card.
So overall, that's definitely a tablet for kids that hits a very sweet spot with its $129 price and delivers a "grown-up" experience in the good sense of the word. The Archos ChildPad is available now at the source link below.