Ara phone with hot-swappable magnetic modules shipping to developers in Q4
43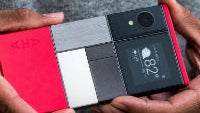 Project Ara has always seemed like a great product that would never actually become real. The release date for hardware kept getting pushed back, and Google reportedly had various issues with getting the modules to work properly. All that seems to be sorted out, and Google ATAP has announced that Ara phones will be shipping to developers in Q4 of 2016.
The announcement, during the ATAP session at Google I/O, might have been one of the best of the conference that not too many people saw. The first "wow" moment was Google showing off magnetic hot-swappable modules, meaning there was no need to reboot the device in order to switch out one module for another. But, what really got the crowd going was when the device was put down, and the presenter said, "OK Google, eject the camera" and the camera module popped out on its own.
"The base plate is the hardware equivalent of a software API."
Google showed off high-res camera modules and storage in addition to more "personalized" modules. Modules were designed to show off your style, but there were also very functional ones, like a glucometer for diabetics to check blood sugar levels. Google announced a number of hardware partners for modules, including those who have never had access to mobile devices. The story being that Project Ara will be a lively and open ecosystem that could be very different from what we currently know about mobile.
Google also used the phrase "future proof" a few times during the announcement, which makes sense, since upgrading would be as simple as buying a new module to attach to the base plate. We should get a lot more information later this year, because Google confirmed that developer hardware will be shipping in Q4 of this year, and claimed the consumer version would be available in 2017.