Apple's rules about Lightning plug force start-up to return Kickstarter funds
34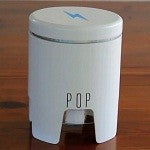 It will end up being the largest Kickstarter refund on record, over $100,000. It all started the an idea for a product called POP (aka Point of Power). POP is a rechargeable, portable, multi-device charging station with an unassuming design.
Inside was a 26,000mAh battery pack which could provide power to your devices whether you were near an outlet or not, and it had retractable cords. There were two designs planned, POP Station (with a plug, good for a central charging point in the house or office) and POP Portable.
Their goal back in September was to raise $50,000 in 45 days. Instead, they raised it in just over two days. Once the fundraising window was closed this past September, POP had accumulated $139,170 in pledges. Needless to say, the folks at Edison, Jr. were thrilled with the outcome and they were ready to make things happen as soon as they had the needed specifications for the Lightning adapter. Knowing how popular the iPhone 5 was going to be, Edison, Jr. committed to ensuring that the POP would support the iPhone 5, or it would not produce the accessory.
As you well know, the Lightning adapter is not just proprietary like the previous 30-pin, it is a secured accessory with its own rudimentary authentication chip embedded inside. It did not take long for outfitters in China to
crack that thing open and offer an affordable alternative
to Apple's $30 Lightning cable.
While Edison, Jr. awaited the word from Apple to get the go-ahead to use the Lightning plug (a new process where all accessory manufacturers have to "apply" to Apple), they provided updates to their patiently waiting backers. Finally, the word came and it was not good news. Apple has a policy now in place in which it will not permit the Lightning plug to be used as a part of a device in which other plugs are present, even Apple's own 30-pin plug.
Edison, Jr. decided that if it could not offer the product of its intended design, and that it would not compromise or leave out a Lightning plug, there was no other option but to refund everyone's money. Providing adapters was not an option because it would drive the wholesale cost of each unit up by about $50, which made no sense, according to Jamie Siminoff, Edison, Jr.'s "chief inventor." Naturally, many of the backers were pretty disappointed, some were supportive. Kickstarter does not have a refund mechanism, but Edison, Jr. has guaranteed a 100% refund of money to 1,000 backers.
The gang at Edison, Jr. said they will examine the idea to accommodate a USB-only design, but the challenge with that is the lack of retail interest (of which there was a lot for the true "all-in-one" POP design). Unfortunately, this is the reality of proprietary designs and standards. Those that own the technology make their own rules. It is too bad the rules knocked a neat idea out before it even got started.
sources:
Edison, Jr.
, via
The Verge
and
Wired