Apple's online store now flooded with iPhone X images just two days before pre-orders start
27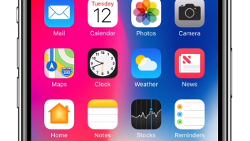 In less than 48-hours from now, the tenth anniversary
Apple iPhone X
model will be available for pre-orders. It should be interesting to see what kind of delivery times Apple promises those who reserve the device, especially
considering the possibility that only 2 million units of the phone will be available on the November 3rd launch date
. That is just 20% of the ten million handsets that Apple usually has ready for a new iPhone model's launch day.
Pre-orders will start to be accepted at 3am EDT in the U.S. this coming Friday, October 27th. In preparation for the event, Apple has already fixed up its online store by adding a page solely devoted to the first iPhone to offer an OLED display. The 64GB version of the iPhone X can be reserved for $999 starting on Friday, while the 256GB variant will cost you $1,149. If you already own an iOS device,
the Apple Store app might be the best way to reserve a unit
. Otherwise, Apple's online web store (check the sourcelink) might be your best shot at reserving an iPhone X. Don't forget to try Best Buy or your carrier's website as well.
In addition, we told you yesterday that Apple has suggested that all potential iPhone X buyers who want to purchase their device in person at the Apple Store rather than pre-ordering it online,
show up early on the November 3rd launch date
. On that date, all Apple Stores around the world will open at 8am local time to accommodate consumers who want the opportunity to test the iPhone X before making a purchasing decision. Yes, you should be able to find an iPhone X model to test out at your local Apple Store on November 3rd.
source:
Apple.com