Apple's new Families site reveals the tools in iOS that parents have to keep kids safe and sound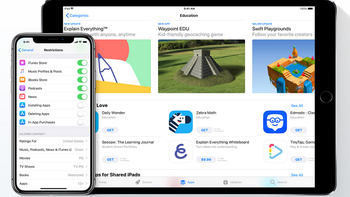 Apple today, introduced a new web page called Families that highlights the tools available to parents to make sure that their kids are safe and sound. The first section of the site shows how children can be stopped from loading apps, playing games and viewing content not intended for their age group. For example, the page mentions how the Kids section of the App Store allows parents to select a certain age range for the apps that their children can choose from. Parents can not only prevent their kids from installing new apps, they also have the ability to turn off the mobile Safari browser on their iOS powered phone or tablet.
The new web page also shows how parents don't have to keep texting the kids to find out where they are. With Find My Friends, Mom and Dad can know exactly where their kids are, how far away they are from them (in both distance and time) and can receive alerts whenever they leave their current location and arrive at a new one. In Messages, parents can set up a group chat with the entire family and tap on the "i" icon to send their location, see the kids' location, and view pictures taken by any member of the family.
Apple Watch
give wearers an incentive to exercise and stay fit.
When police need to be summoned immediately, a quick call to 911 can be made. With the 2017 models, hold the side button and either volume button until a slide bar appears on the screen. Slide it to activate the call. On the
Apple iPhone 7
or older, press the side buttons quickly five times and the slide bar will appear on the display.
Visit Apple's new web page and learn how iOS can help keep families safe and sound. Simply click on the sourcelink below.
source:
Apple