Apple's iPhone accounts for half of all smartphone traffic worldwide
This article contains unofficial information.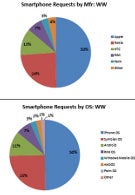 The iPhone now accounts for half of all smartphone traffic worldwide. While Apple's touchscreen device is gaining share, Symbian devices have been losing ground and now account for a quarter of such traffic across the globe. In the U.S., Apple accounts for 50% of smartphone traffic as well. The latest data includes information up through the end of October. Android models had picked up share in the two month period through the end of last month, growing from 7% to 11% of world traffic. In the U.S., Android accounts for 20% of smartphone traffic due mostly to the laumch of a number of new models using the open source OS, and sold on different carriers. While the HTC Magic, myTouch 3G and the HTC Hero have helped Android gain share, the launch of the Motorla DROID on November 6th has led to the phone capturng 24% of Android traffic in just the first 12 days of being released. That should help the OS pick up more share in the U.S. and overseas (where the phone is known as the MILESTONE) in the next survey when the data from the handset will be included.
On the downside, both the BlackBerry OS and Windows Mobile saw its share of smartphone traffic decline 1% to 7% and 3% respectively. The Palm OS was halved from 4% to 2% On the 'Berry OS, the leading device in traffic is the 2 year old BlackBerry 8300 Curve series which generates 44% and the Pearl 8100 accounts for 16%. As for Symbian devices, the four year old Nokia N70 is responsible for the most smartphone traffic followed by the N95. The Touch Pro generates the most smartphone traffic of Windows Mobile devices followed by the Touch.
source:
electronista