Apple's iPhone 4S is not LTE, but it's a "world phone" - where will it work?
15
One of the big reasons, besides the two-year duration of carrier contracts, for not outing a completely redesigned iPhone with 4G LTE baseband radio, is that the first-gen LTE chips, like the
Qualcomm MDM9600
are just too fat for fitting well into the crammed circuitry of one of the thinnest phones out there, and they are battery hogs.
As usual, Apple went with the golden middle, allowing iPhone 4 owners to switch to something much grander only at the end of their 2-year contracts in 2012, getting all the 3GS folks who expire this year to jump straight to dual-core, and waiting it out for the second slim and efficient generation LTE chips like Qualcomm's MDM9615. That chip is currently sampling with manufacturers,
including Apple
, and will most likely be into phones in time for the usual June/July iPhone upgrade cycle next year.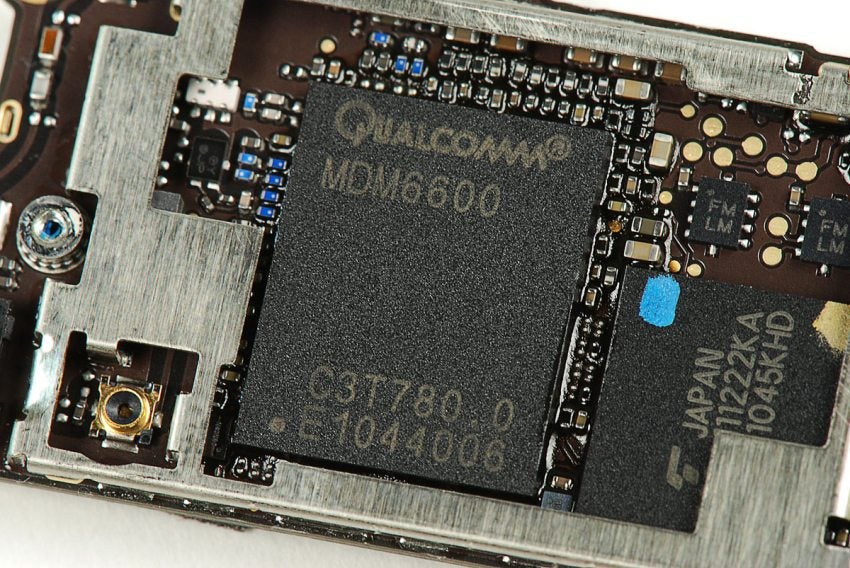 Combined GSM/CDMA baseband radio chip
Apple went with the next best thing, though, and included another gem from Qualcomm inside the iPhone 4S - its combined GSM/CDMA baseband "Gobi" chip. It
doesn't add much to the cost compared with separate radios
, but now one and the same device can get 3G speeds on Verizon, Sprint, Indian and Latin American CDMA carriers, as well as hook you up to any GSM carrier worldwide.
The baseband radio supports T-Mobile's AWS 1700MHz spectrum, but the carrier might have not been in the cards due to the potential merger with AT&T anyway, so the needed RF chip and power amplifier are probably skipped by Apple altogether in the 4S.
Since Apple says the iPhone 4S goes up to 14.4Mbps downloads on GSM networks, the baseband radio inside is most likely Qualcomm's MDM6600 "Gobi" solution in the Verizon iPhone 4, which "
supports HSPA+ data rates of up to 14.4 Mbps and CDMA2000® 1xEV-DO Rev. A/Rev. B
".
Granted, there are 21Mbps HSPA+, and even 42Mbps phones out there, like the
Samsung Galaxy S II
and the
HTC Amaze 4G
, but good luck getting such speeds in real-world scenarios on AT&T, for example.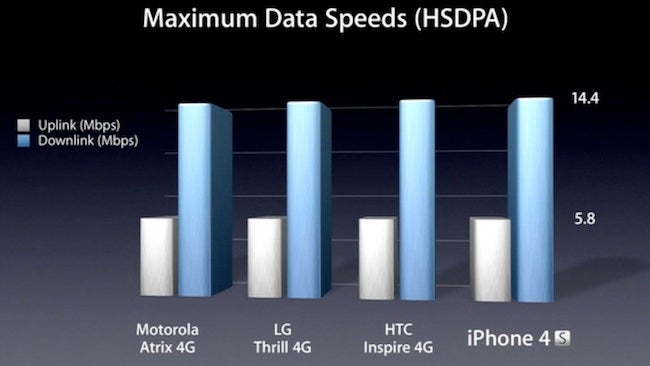 At the iPhone 4S announcement Apple said it doesn't intend to argue what exactly is 4G
In light of last year's "you are holding it wrong" fiasco, Apple has probably taken every precaution that connectivity and switching between bands and carriers are made as seamless as possible, integrating two antennas in the iPhone 4S. Does it meas you can take your Sprint or Verizon handset, go to Europe, pop in a prepaid SIM card and save on the exorbitant international roaming charges?
Well, probably not. If history is any indication, the carriers will lock the iPhone 4S to their networks. We already have "world phones" - the
Motorola Droid Pro
, the
BlackBerry Bold 9930
, the
HTC Trophy
, the
Motorola Photon 4G
, and
Motorola Droid Bionic
, to name a few. Verizon and Sprint's "world" handsets are usually prevented to use AT&T or T-Mobile at home, even if they are unlocked for GSM networks abroad, and we have no reason to believe the iPhone 4S will be any different. Also, "unlocking" for CDMA networks is a whole different ballgame than for GSM ones, so for modders the iPhone 4S will be a tough nut to crack.
The handset will be available next week October 14 in the
US, UK, Canada, Australia, Japan, Germany and France
and 22 countries will follow October 28 -
Austria, Belgium, Czech Republic, Denmark, Estonia, Finland, Hungary, Ireland, Italy, Latvia, Liechtenstein, Lithuania, Luxembourg, Mexico, Netherlands, Norway, Singapore, Slovakia, Slovenia, Spain, Sweden, and Switzerland
.
By year-end the iPhone 4S will be on 100 carriers in 70 countries, just don't expect to be happily globetrotting between CDMA and GSM carriers in them with your iPhone, despite the "world" chip inside. Those $500+ subsidies have to be recovered by carriers somehow.