Apple's iOS dangerously close to Android on the US market, both divided by merely 1%, says Kantar
68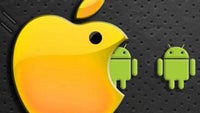 According to Kantar Worldpanel, the popular research company, the global market share of Android has suffered a blow for the quarter that ended, the culprit for which is no one else but Apple, iOS, as well as the hot-selling
Apple iPhone 6
and
iPhone 6 Plus
. Kantar reports reveals that Android's decline and Apple's momentum can be observed on almost all of the major markets, such as the USA and the bigger European ones.
The analytic firm points out that the slight numbers fall for Google's mobile OS began when Apple launched its new smartphone crop and officially brought its new-fangled iOS 8 to the public.
"While remaining the dominant global OS, Android's market share dropped in most European markets and in the US where the decline was the first since September 2013,"
claimed Carolina Milanesi, the Chief of Research at Kantar Worldpanel.
"The choice of brands and devices within the ecosystem empowers consumers to drive different fortunes for the players in it."
As per Kantar's data, Android had 48.4% of the US market in November 2014, which is 2.1% lower than its result a year earlier. For the same period, Apple's iOS saw a 4.3% bump in its market share and now stands at 47.4%, which is dangerously close to Google's OS. Windows Phone remains the third platform with 3%, lower than the 4.7% it had back in November 2013.
Then again, we should not forget that Kantar's data relates to November 2014 and November 2014 only, so the state of affairs might be somewhat different at the moment.
Less than a month ago, another popular research agency, Gartner,
also treated us to its analysis
of the state of the smartphone and platform markets. Its one, however, gave us insight about about the global state of affairs - according to Gartner, both Android and iOS grew year-over-year, by 1.10% and 0.6%, respectively.
source:
Kantar Wolrdpanel
via
WMPoweruser