Apple's Healthkit trademark includes watches, jewelry, and more
3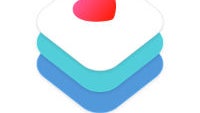 When Apple first unveiled Healthkit at WWDC, the announcement focused on how the app would connect to various wearable devices that are already on the market, but we all had the idea that the ultimate goal was for Healthkit to be a partner app for the iWatch. Surprisingly, when Apple filed for the Healthkit trademark in the U.S., only medical devices were a part of that filing. But, the a new European trademark filing has all of the aspects we expected, including watches.
The classifications listed for the European trademark of Healthkit are as follows:
Health, fitness, exercise, and wellness sensors, monitors and displays; medical apparatus and devices… Horological and chronometric instruments; watches; clocks; timepieces; chronographs for use as timepieces; chronometers; watchstraps; watch bands; cases for watches, clocks, and horological and chronometric instruments; parts for watches, clocks, and horological and chronometric instruments; jewelry.
That is a very exhaustive list, although quite a large portion of that list are essentially synonyms for "watch". The rumors have said for a while that a potential iWatch would be focused on health, fitness, exercise, and wellness, which covers the first section of the classification list. The middle section is a mess of words that all mean the same thing. But, it is that last one that is interesting: jewelry.
We know that at its heart, Apple believes itself to be a fashion brand. Owning an Apple device is a fashion statement. As we mentioned, that was likely
part of the reason
why Apple recently purchased Beats. There have also been rumors that Apple is working on both a sport version of the iWatch as well as a
fashion version
, which could connect to the jewelry classification here. Time will tell.