Apple to ship up to 5 million iPhone SE units amidst a quarter of unusually slow chip orders
17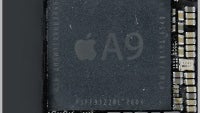 Citing "industry sources", DigiTimes reports that Apple has slowed down its chip orders in the second quarter of 2016, compared to the same quarter in previous years. Despite the volume production of its new 4-inch iPhone SE and 9.7-inch iPad Pro devices, projected chip orders by Apple for the second quarter will only be slightly higher than those for the first quarter. Moreover, integrated circuit (IC) suppliers have hinted that chip shipments for the iPhone 6s and 6s Plus for the second quarter of 2016 will likely be half those shipped in the first quarter.
We also get to learn that Apple has reportedly targeted four to five million iPhone SE shipments for Q2 2016, meaning that, in all likelihood, shipments for the new iPhone SE will be unable to offset the fall in shipments for the iPhone 6s and 6s Plus devices in the second quarter. That's an interesting report, considering Chinese customers allegedly placed as many as 3.4 million pre-orders. Could more than half of the iPhone SE' sales happen in the Middle Kingdom? It's not impossible, although it will be a surprising turn of events!
Apple's next iPhone needs to be seriously amazing to spark the interest it's gotten accustomed to.
A week after being put up for pre-order, the new 4-inch smartphone is being treated to a lukewarm response, compared to past iPhone launches. Its first first weekend online sales have been estimated at just 3%, compared to iPhone 6 launch.
Our readers dislike the device's 4-inch display
, deeming it too small for a comfortable experience. They,
along with some high-profile executives in the industry
, are also
disappointed by its throwback design
, which is a direct remake of the iPhone 5s'.
Apple's chip orders will probably return to their usual high levels around or after the third quarter of 2016, which is when its next-generation iPhone (and probably Apple Watch) products will be released. From the company's perspective, the drop in chip orders reflects a predicted sales slump in March, which CEO Tim Cook announced in its financial earnings conference call this January. The first quarter of 2016 saw the first year-over-year decline since the original iPhone's release back in June 2007. Moreover, Apple forecast a revenue of between $50 to $53 billion, compared to $58 billion for the first quarter of 2015, which happens to be the company's first year-over-year revenue drop in thirteen years.
source:
DigiTimes
via
MacRumors
Also read: