LG CEO on the iPhone SE: "same old technology and features"
94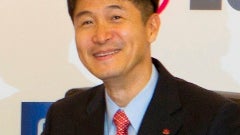 Earlier this week, Apple finally showcased the
iPhone SE
, an
iPhone 5s
replacement that packs a faster processor, better camera and
a few other perks
over 2013's flagship. The decision to roll out a cheap
for an iPhone
device -- particularly at this time of the year -- outlines Apple's intent on wooing consumers that don't necessarily want a flagship, or indeed have flagship money at their disposal. Arriving next week at a sub-$400 price point, the iPhone SE is essentially an iPhone 5s on the outside that borrows most of its innards from the
iPhone 6s
. Some, such as those considering the acquisition of the SE, may see this as the best of both worlds. Cho Ju-no, CEO of rival LG, doesn't agree.
It's not uncommon for firms to back-bite one another following a new release, but that doesn't appear to have been Cho Ju-no's intention. Speaking at a special
G5 and Friends
gathering in Seoul, South Korea, Cho Ju-no was keen to focus his efforts on the forthcoming G5 flagship. Still, when pressed about the iPhone SE, he did outline his stance on the practise of feature-recycling.
"We do not care too much about a rival's product... we are focused on making sure the new device provides consumers a variety of options to have fun."
"Rolling out a product with same-old technology and features is not LG's way,"
he said. Where Apple has diversified its smartphone line by drafting in previously-seen hardware, LG is hoping that consumers take to its attempts at innovation.
The G5's eye-opening modular aspect
has definitely piqued the interest of the tech world, but only sales will determine whether LG's efforts have been worthwhile. Cho Ju-no certainly believes so, adding that by
"combining fun and imaginative elements, [LG is] sure to overcome market uncertainties."

With Apple taking the decidedly safe route for the time being, LG is throwing a new idea at the wall and hoping it sticks. Since the Korean firm is looking to take the industry down unexplored paths, it somewhat stands to reason that its CEO would be unimpressed by a device like the iPhone SE
.


Still, in bundling high-end smartphone features into a handset starting at $399, the iPhone SE is unquestionably more appealing than
Apple's last attempt at a cheaper device
. Meanwhile, with
HTC's impressive-looking flagship
set to join the revered
Samsung Galaxy S7 duo
, LG will be hoping that new and '
imaginative
' features are what consumers are really looking for.
source:
Korea Times
,
Korea Herald
via
Android Authority