Apple to hire experienced TI employees to work on its A line of processors
10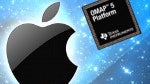 Always on the look out for new opportunities, Apple is now said to be actively courting some experienced Texas Instruments employees, in a move to secure the bright future of its own A line of processors.
Texas Instruments
recently announced
that it will be withdrawing most of its forces from the application processors front, and will be deploying them on the embedded systems front. TI is facing the harsh reality of increasingly tough competition from companies like Apple and Samsung, who are designing their own chips, as well as the other strong players on the chipset market like Qualcomm and Nvidia. Plus, all the phone and tablet models that manage to achieve significant sales seem to use non-TI chips. All of this has forced TI to consider transitioning to the embedded systems market in order to stabilize its business and start making some real dough.
Apple, on the other hand, is currently growing its mobile processor division and is looking for talented and experienced people with fresh ideas. And, as you might guess, there are probably a good number of people at Texas Instruments right now who fit that description. It's really important for Apple to constantly improve its A line of mobile processors, which are currently powering its whole range of mobile devices, including iPhone, iPad and iPod. Well, at least its good to know that those employees will have a new job position waiting for them once TI initiates its transition.
source:
AppleInsider