Texas Instruments throws in the towel on OMAP, to limit work on smartphone and tablet chips
52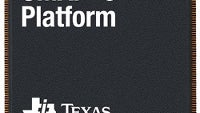 Texas Instruments has been under investor pressure lately to give up its mobile chips program that culminates with the ARM-based
OMAP processor family
. It was consuming so much money and human resources, they said, without gaining much traction against a juggernaut like Qualcomm, which packages its Snapdragons with LTE radio for a complete solution, preferred by most customers.
TI seems to have listened, and announced that it will "
shift focus
" away from smartphone and tablet chips, as their "
opportunity is much less going forward.
" Can't blame them, considering that the blazing mobile chips are gradually becoming a commodity, costing just a few tens for a complete modern SoC, while requiring considerable brain power to build and test.
Moreover, Samsung has its Exynos family, which it plans to pair with LTE radios, Apple just came up with a
custom A6 chip
,
NVIDIA bought Icera
to integrate baseband modems in its Tegra chips, and ST-Ericsson already does that in several Sony models, so even the second-tier space is getting crowded.
Texas Instruments plans to expand the scope of its embedded solutions, looking to gain a foothold with car makers now, where it believes it will have much steadier long-term prospects..