Apple to ditch Intel in Macs for its own processors, like the ones used in the iPad and iPhone
50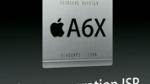 Bloomberg just broke a story that rose the hair on the back of Intel shareholders' necks, claiming that Apple is planning to put chips like the ones it designs for the iPad and the iPhone in its Mac line as well.
Apple has been really stepping up its homebrew processors game lately, dedicating huge resources to developing own line of chips, manually designing ARM-based silicon, and fine tuning them for its own iOS software.
The iPad 4 is decimating the mobile competition in graphics benchmarks
, and Apple is apparently confident enough that it can do the same for Macs and OSX.
The goal might be to have uniform chip technologies across all Apple products, fine-tuned for its own software, and, with time, we could very well see a convergence among Apple's desktop, laptop, tablet and phone experience. "
If Apple Chief Executive Officer Tim Cook wants to offer the consumer of 2017 and beyond a seamless experience on laptops, phones, tablets and televisions, it will be easier to build if all the devices have a consistent underlying chip architecture,
" says the source.
The recent management reshuffling proves the point, with special attention given to the
human interface department
, where Jony Ive will try to unify and streamline the software, hardware and design story of Apple across its product range. We also had
Bob Mansfield dragged out of retirement
with a lucrative compensation offer, and tasked with supervising Apple's future chip designs, including making his dream system-on-a-chip, which might include the baseband radio too. Now we know why that might have been, and Intel shares plunged 2% in the short time that story broke right before market close, although Apple is not even 10% of its revenues now.