Preliminary benchmarks show the Nexus 10 graphics trailing behind the iPad 4
99+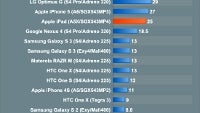 We've always been curious how ARM's stock graphic processing units of the Mali family stack up against the PowerVR GPUs that Apple utilizes, but that interest peaked now that we have the next generation
Mali-T604
in the
Nexus 10
, and a quad-core
PowerVR SGX544MP4
in the
iPad 4
.
These, along with Qualcomm's
Adreno 320
, are the fastest mobile graphics processors around, so it is very interesting to see how they stack up. The Nexus 10 tablet was on top by a large margin before the
new iPad
in only one test, but probably the most important one, as far as raw GPU power is concerned - the offscreen Egypt HD benchmark, as in the rest it has to push 25% more pixels as well.
When it comes to the iPad 4, however, it seems that the quad-core PowerVR GPU is leaps and bounds ahead everything else, and exactly what was needed for superior gaming performance on the high-res display.
The Cortex-A15 processor also did very well in browser tests, taking the lead in Google's own Octane browsing test, as well as in Mozilla's Kraken, but fared lower than the iPhone 5 in BrowserMark and SunSpider - the iPad 4 was not included in the browsing tests. Overall, our thoughts and hopes on Cortex-A15 have been met, and we can't wait to grab one retail Nexus 10 and put it through its standard benchmarking paces.