Apple takes the space out of the new iPhone?
This article contains unofficial information.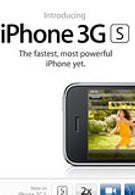 It might not seem like a big deal, but one space can create a headache for a technology writer these days. When the Cupertino company originally launched the new iPhone, it was written as the iPhone 3G S. Note the space after the "G" and the "S" (which stands for speed, we are told). Now, this week, the company is referring to its new model as the iPhone 3GS with no spaces and the design that Apple uses for the handset does not make it clearer. On the web site, for example, the iPhone 3G logo is followed with the letter "S" enclosed in a square box with rounded edges. Is there a space there? Does it really matter? Considering the amount of ink that has been used to write about the device, it is important to get the name of the phone correct, even if the entire world knows exactly which model you are writing about. As Howie Mandel would ask, space or no space?
source:
WSJ Digits